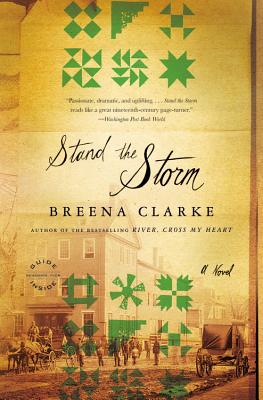 Stand the Storm (Paperback)
Back Bay Books, 9780316007054, 352pp.
Publication Date: June 24, 2009
* Individual store prices may vary.
Description
Even though former slaves Annie Coats and her son Gabriel have managed to buy their freedom, their lives are still marked by constant struggle and sacrifice--to the extent that Annie secretly recalls her days on the plantation with fondness. Washington's Georgetown neighborhood, where the Coatses are seeking to build their new lives--with Gabriel, a tailor, producing uniforms for soldiers and fine suits for pompous politicians, and Annie, a seamstress and laundress, catering to the nearby brothels and stately homes--is supposed to be a safe haven, a "promised land" for former slaves, but is effectively a frontier town, gritty and dangerous, with no laws protecting black people. In fact, the city's own emancipation efforts in 1862 serve only to compromise the Coats family's status, putting Gabriel's three young daughters (each of them born free of free parents) at risk of becoming the property of the Coatses' former master. The remarkable emotional energy with which the Coatses rise their daily battles--as they negotiate with their former owner, as they assist other former slaves en route to freedom, as they prepare for the encroaching war, and as they struggle to love each other enough--is what fuels this novel and makes its tragic denoument so devastating.
About the Author
Breena Clarke grew up in Washington, DC, and was educated at Webster College and Howard University. She is the author of two widely praised novels, River, Cross My Heart, which was a selection of Oprah's Book Club, and Stand the Storm. She lives in Jersey City, New Jersey.
Praise For Stand the Storm…
"... 'Stand the Storm' is a powerful story quietly told."—
Robin Vidimos
,
The Denver Post
"Clarke again delivers a gripping story and seemingly effortlessly captures the bond between a mother and son and the price of freedom."—
Ebony
"A gripping novel about a family's heart-wrenching journey out of slavery."—
Felicia Pride
,
Baltimore Sun
"Fans of
River, Cross My Heart
will instantly recognize the author's poetic sentences and the powerful emotional scenes that leave us breathless."—
Mika Ono Benedyk
,
Essence
"Calling all book clubs! Clarke, whose debut novel,
River, Cross My Heart
, was a 1999 Oprah pick, scores again with this Civil War-era saga, set in
Washington
. She tells the deeply affecting story of a family of freed slaves in an evocative, historically rich book that brings the turbulent period alive. The author neither averts her eye from, nor sugarcoats the truth about, the uphill struggle for dignity in this gritty town. A-"—
TIME
"Almost a decade later, Stand the Storm is a fulfilling follow-up, written with the same restraint and sensitivity that made her earlier novel such a hit."—
Krista Walton
,
Washington City Paper
or
Not Currently Available for Direct Purchase