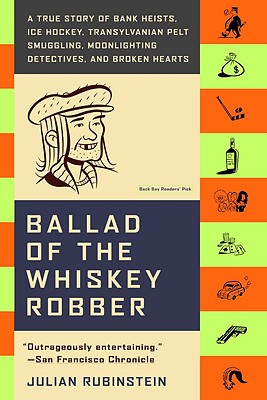 Ballad of the Whiskey Robber (Paperback)
A True Story of Bank Heists, Ice Hockey, Transylvanian Pelt Smuggling, Moonlighting Detectives, and Broken Hearts
Back Bay Books, 9780316010733, 352pp.
Publication Date: September 13, 2005
* Individual store prices may vary.
Description
During the 1990s, while playing for the biggest hockey team in Budapest, Ambrus took up bank robbery to make ends meet. Arrayed against him was perhaps the most incompetent team of crime investigators the Eastern Bloc had ever seen: a robbery chief who had learned how to be a detective by watching dubbed Columbo episodes; a forensics man who wore top hat and tails on the job; and a driver so inept he was known only by a Hungarian word that translates to Mound of Ass-Head.

Ballad of the Whiskey Robber is the completely bizarre and hysterical story of the crime spree that made a nobody into a somebody, and told a forlorn nation that sometimes the brightest stars come from the blackest holes. Like The Professor and the Madman and The Orchid Thief, Julian Rubinsteins bizarre crime story is so odd and so wicked that it is completely irresistible.
Praise For Ballad of the Whiskey Robber: A True Story of Bank Heists, Ice Hockey, Transylvanian Pelt Smuggling, Moonlighting Detectives, and Broken Hearts…
"Rubinstein has found a story of the sort that would make even the most dry-mouthed journalist slobber. Sometimes sad, often hilarious and always absurd, Ambrus's tale microcosmically condenses the politico-historic oddities of his place and era into one entertaining and tidy narrative... With a keen eye for the ridiculous, fearlessly high-speed prose and an extraordinary wealth of reported detail, Rubinstein conducts the affair like an unusually thoughtful carnival barker."—New York Times Book Review (Editors' Choice)

"Outrageously entertaining... An essential absurdism is never far from the surface... A rip-roaring cops and robbers saga with a Mitteleuropean heart."—San Francisco Chronicle

"The antagonistic protagonist of Julian Rubinstein's picaresque romp is a real person who defies belief... Rubinstein rides the momentum in appropriately riotous fashion, but he wisely never lets his vivid style overshadow a tale that burns up the pages on its own momentum. Nor does he succumb to sentimentality when exploring the tale's pathos-and believe it or not, there's as much of that as there is burlesque. A memorable tragicomedy."—Boston Globe

"Julian Rubinstein's richly enjoyable true-crime saga... Mr. Rubinstein narrates all these farcical goings-on with a sad affection peeking through, even for the dumbest and most corrupt characters. But primarily he maintains that marvelously sardonic Eastern European resignation, that ironic tone of voice that always seems to shrug and say, 'So what did you expect?'"—Dallas Morning News

"Sometimes a book comes along that taxes even our best summarizing skills, but since we can't just really order you to read it (or can we?), let's just say that Julian Rubinstein's Ballad of the Whiskey Robber, the totally bizarre true story of ice hockey-playing bank robber (and pelt smuggler, grave-digger, the list goes on) Attila Ambrus is one of the quirkiest and most riveting narratives. Here, the bad guys are the gentleman, the good guys are the bumblers, and nothing is quite what it seems, but that won't keep you from laughing out loud every couple of pages. Weirdness has never been quite so winning."—Elle

"Rubinstein has a knack for vividly portraying his stranger-than-fiction characters... By turns hilarious and incredible, this stuff just can't be made up."—Maxim (5 out of 5 stars)

"A wonderful read. Rubinstein's account of the Whiskey Robber seems straight out of Hollywood and indeed it's ideal for the big screen."—Sports Illustrated

"A beautifully crafted tale... In Rubinstein's deft hands, Attila becomes a great tragicomic character... Unlike many books today that run out of energy after the first several chapters, Rubinstein keeps up the high energy, madcap comedy throughout the book."—Denver Post

"This story of a bank robber who captured a nation's sympathy in post-Communist Hungary is a rollicking tale told with glee and flair.... Rubinstein has a knack for telling a good story, and he captures well both Ambrus's appeal and the atmosphere of the first few years of capitalism in Hungary... This Jesse James-like tale has the chance to be a sleeper that transcends nonfiction categories."—Publishers Weekly (starred review)

"Never was there a more entertaining case history of the fall of communism... Wholly enjoyable."—Kirkus

"Its hard to imagine what journalist Julian Rubinstein thought when he stumbled across the twisted tale of Attila Ambrus, but his fascination finds riveting realization in Ballad of the Whiskey Robber, a nonfiction account of a story that must be read to be believed... Rubinstein surveys the whole tale in grand storytelling fashion, following the action and the chase in entertaining detail. Ballad of the Whiskey Robber is more than just an impressive yarn, though: Set against a rich backdrop of hope and despair, the book is a heartrending study of a character whose bungling tells the story of a world much bigger than his own."—The Onion, AV Club