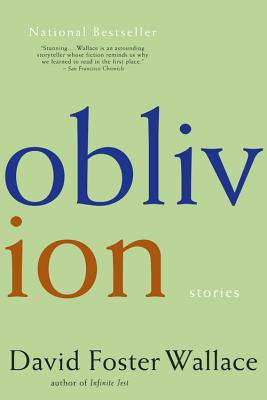 Oblivion
Stories
Paperback

* Individual store prices may vary.
Other Editions of This Title:
Digital Audiobook (8/6/2012)
Description
In the stories that make up Oblivion, David Foster Wallace joins the rawest, most naked humanity with the infinite involutions of self-consciousness -- a combination that is dazzlingly, uniquely his.

These are worlds undreamt of by any other mind. Only David Foster Wallace could convey a father's desperate loneliness by way of his son's daydreaming through a teacher's homicidal breakdown ("The Soul Is Not a Smithy"). Or could explore the deepest and most hilarious aspects of creativity by delineating the office politics surrounding a magazine profile of an artist who produces miniature sculptures in an anatomically inconceivable way ("The Suffering Channel"). Or capture the ache of love's breakdown in the painfully polite apologies of a man who believes his wife is hallucinating the sound of his snoring ("Oblivion").

Each of these stories is a complete world, as fully imagined as most entire novels, at once preposterously surreal and painfully immediate.

"Stunning...Wallace is an astonishing storyteller whose fiction reminds us why we learned to read in the first place." --San Francisco Chronicle
Back Bay Books, 9780316010764, 336pp.
Publication Date: August 30, 2005
About the Author
David Foster Wallace was born in Ithaca, New York, in 1962 and raised in Illinois, where he was a regionally ranked junior tennis player. He received bachelor of arts degrees in philosophy and English from Amherst College and wrote what would become his first novel, The Broom of the System, as his senior English thesis. He received a masters of fine arts from University of Arizona in 1987 and briefly pursued graduate work in philosophy at Harvard University. His second novel, Infinite Jest, was published in 1996.

Wallace taught creative writing at Emerson College, Illinois State University, and Pomona College, and published the story collections Girl with Curious Hair, Brief Interviews with Hideous Men, Oblivion, the essay collections A Supposedly Fun Thing I'll Never Do Again, and Consider the Lobster. He was awarded the MacArthur Fellowship, a Lannan Literary Award, and a Whiting Writers' Award, and was appointed to the Usage Panel for The American Heritage Dictionary of the English Language. He died in 2008. His last novel, The Pale King, was published in 2011.