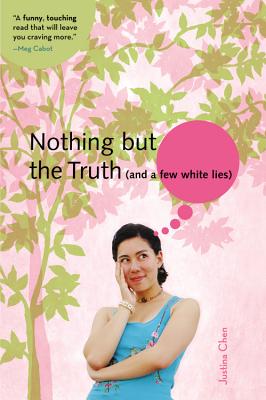 Nothing But the Truth (and a few white lies) (A Justina Chen Novel) (Paperback)
Little, Brown Books for Young Readers, 9780316011310, 256pp.
Publication Date: April 1, 2007
* Individual store prices may vary.
Description
A half Asian and half white teen navigates a summer of woe and love in this utterly relatable novel that Meg Cabot calls "A funny, touching read that will leave you craving more.". Half Asian and half white, Patty Ho has never felt completely home in her skin. Things get worse when a Chinese fortune-teller channels Patty's future via her belly button...and divines a white guy on her romance horizon. Faster than Patty can add two plus two, her ultra-strict Taiwanese mom freaks out and ships her off to math camp at Stanford. Just as Patty writes off her summer of woe, life starts glimmering will all kinds of possibilities.... Nothing But the Truth (and a few white lies) is a fresh and witty contemporary novel about finding yourself, perfect for fans of Mitali Perkins and Carolyn Mackler.

About the Author
Justina Chen Headley grew up near Buffalo, NY and San Francisco. After attending Stanford University she spent time in New York and Sydney, Australia before settling near Seattle, Washington, where she currently lives with her two children. Her first, Nothing But the Truth (and a few white lies), was a Book Sense pick, and her second novel, Girl Overboard, won praise from Olympic Gold Medalist and fellow snowboarder Hannah Teter. Her third novel, a gorgeously written story about a teen's quest for beauty, North of Beautiful, was critically acclaimed with starred reviews from Publishers Weekly, Kirkus, and Booklist.