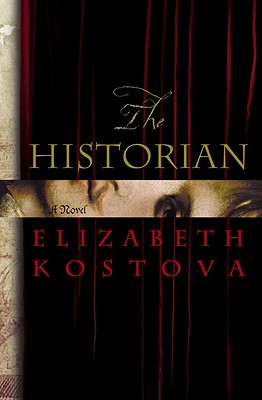 The Historian
Hardcover

* Individual store prices may vary.
Other Editions of This Title:
Digital Audiobook (7/31/2005)
Digital Audiobook (6/23/2008)
Paperback (9/1/2009)
Mass Market (6/1/2008)
Paperback (10/1/2006)
Description
To you, perceptive reader, I bequeath my history....Late one night, exploring her father's library, a young woman finds an ancient book and a cache of yellowing letters. The letters are all addressed to "My dear and unfortunate successor," and they plunge her into a world she never dreamed of-a labyrinth where the secrets of her father's past and her mother's mysterious fate connect to an inconceivable evil hidden in the depths of history.

The letters provide links to one of the darkest powers that humanity has ever known-and to a centuries-long quest to find the source of that darkness and wipe it out. It is a quest for the truth about Vlad the Impaler, the medieval ruler whose barbarous reign formed the basis of the legend of Dracula. Generations of historians have risked their reputations, their sanity, and even their lives to learn the truth about Vlad the Impaler and Dracula. Now one young woman must decide whether to take up this quest herself-to follow her father in a hunt that nearly brought him to ruin years ago, when he was a vibrant young scholar and her mother was still alive. What does the legend of Vlad the Impaler have to do with the modern world? Is it possible that the Dracula of myth truly existed-and that he has lived on, century after century, pursuing his own unknowable ends?

The answers to these questions cross time and borders, as first the father and then the daughter search for clues, from dusty Ivy League libraries to Istanbul, Budapest, and the depths of Eastern Europe. In city after city, in monasteries and archives, in letters and in secret conversations, the horrible truth emerges about Vlad the Impaler's dark reign-and about a time-defying pact that may have kept his awful work alive down through the ages.Parsing obscure signs and hidden texts, reading codes worked into the fabric of medieval monastic traditions-and evading the unknown adversaries who will go to any lengths to conceal and protect Vlad's ancient powers-one woman comes ever closer to the secret of her own past and a confrontation with the very definition of evil.

Elizabeth Kostova's debut novel is an adventure of monumental proportions, a relentless tale that blends fact and fantasy, history and the present, with an assurance that is almost unbearably suspenseful-and utterly unforgettable.
Praise For The Historian…
"In this smart retelling of the Dracula story, a young girl's discovery of a mysterious book, blank save for a sinister woodcut of a dragon, impels her father to divulge, reluctantly, details of his vampire-hunting days back in grad school. Halfway through his tale, which is told over several sessions in various atmospheric European locations, he vanishes. His daughter's quest to find him is interwoven with letters that reveal the past in full. Kostova's knowledge of occult arcana is impressive, and she packages her erudition in a graceful narrative that only occasionally lapses into melodrama. The structure-a story within a letter within a flashback-is an innovative complication, but it is soon shaken off by the swift-moving plot. Kostova never strays far from the conventions of the genre, and her historical thriller feels somewhat indebted to best-sellers of the recent past; there are Christian heresies, scholarly sleuths, and a malaprop-prone Eastern European guide. "—The New Yorker

"Quite extraordinary...Kostova is a natural storyteller...She has refashioned the vampire myth into a compelling contemporary novel, a late-night page-turner."—San Francisco Chronicle

"Part thriller, part history, part romance....Kostova has a keen sense of storytelling and she has a marvelous tale to tell."—Baltimore Sun

"Kostova's vampire is no campy Lugosi knockoff....Blending history and myth, Kostova has fashioned a version so fresh that when a stake is finally driven through a heart, it inspires the tragic shock of something happening for the very first time."—Newsweek
Little, Brown and Company, 9780316011778, 656pp.
Publication Date: June 14, 2005
About the Author
Elizabeth Kostova is the author of the international bestseller The Historian. She graduated from Yale and holds an MFA from the University of Michigan, where she won the Hopwood Award for the Novel-in-Progress.
or
Not Currently Available for Direct Purchase