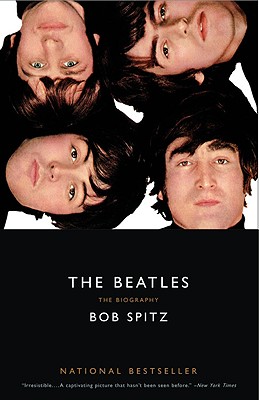 The Beatles (Paperback)
The Biography
Back Bay Books, 9780316013314, 992pp.
Publication Date: October 10, 2006
Other Editions of This Title:
Hardcover (10/1/2005)
* Individual store prices may vary.
Description
The definitive biography of The Beatles, hailed as "irresistible" by the New York Times, "riveting" by the Boston Globe, and "masterful" by Time.

As soon as The Beatles became famous, the spin machine began to construct a myth -- one that has continued to this day. But the truth is much more interesting, much more exciting, and much more moving -- the highs and the lows, the love and the rivalry, the awe and the jealousy, the drugs, the tears, the thrill, and the magic to never be repeated. In this vast, revelatory, exuberantly acclaimed, and bestselling book, Bob Spitz has written the biography for which Beatles fans have long waited.
About the Author
Bob Spitz has represented the careers of Bruce Springsteen and Elton John. He is the author of The Beatles, The Making of the Superstars, Barefoot in Babylon, Dylan, and Shoot Out the Lights. His articles appear regularly in the New York Times Magazine, GQ, Condé Nast Traveler, Men's Journal, InStyle, Esquire, Sky, and The Washington Post. He lives in Connecticut.
Praise For The Beatles: The Biography…
"Irresistible...The Beatles amplifies and corrects some of what is
known about the band's formative years. It shapes a particularly vivid
picture of the young, surly John Lennon...It powerfully evokes
both the excitement and the price of such a sudden rise...A
captivating picture that hasn't been seen before."—Janet Maslin, New York Times


"Masterly...A deep, serious, and accomplished account worthy of the
most important band in the world...A book that, although
exceptionally lengthy, is actually the perfect size...Spitz
expertly captures the sense of time and place to frame his story."—Tom Sykes, New York Post


"Richly detailed...The Beatles comes as close to being a quick read
as any 983-page book has a right to be...Spitz also does a
remarkable job capturing the distinct qualities of each Beatle."—Jonathan Bor, Baltimore Sun


"Juicy, detailed, well-written, and authoritative...What makes
Spitz's book a standout is his attention to visual detail...He has a
knack for description and for cliffhangers. Every chapter of The
Beatles promises more misery for the lads, more pleasure, more
surprise."—David Kirby, Atlanta Journal-Constitution


"Beatlemaniacs will swoon."—People

"Riveting...Startlingly well-reported and consistently engaging...Even though the Beatles story is well known, Spitz has fleshed it out
fully, revealing the flawed, singularly creative human beings behind
the lovable moptop image....What Spitz does exceptionally well is
contextualize."—Carlo Wolff, Boston Globe


"In its scope, structure, and sheer length, this meaty 983-page
true-life epic unfolds as a sort of Beatles's War and Peace...Spitz's genius is how he stitches together available Beatles knowledge
with the artistry of a fine novelist."—Michael Tarm, Cincinnati Enquirer


"Spitz has done a masterful job of focusing his kaleidoscope eyes on the greatest pop thing since Jesus."—Richard Gehr, Village Voice


"Spitz knows his subject. His encyclopedic grasp pervades every page.—Joe Selvin, San Francisco Chronicle


"Spitz marshals a staggering mass of research...The early chapters are
irresistible; they have the hypnotic effect of a film clip run
backward."—Lev Grossman, Time

"Spitz has performed a valuable historical service...The Beatles
respects its subjects without canonizing them...Best of all, at the
end of the long and winding road, it sends us back home to the music."—David Hinckley, New York Daily News


"Filled with intimate scenes...The first third of this opus is a
treasure chest of revelation...Spitz demonstrates his deep research
and writing chops by transporting us to the place where it all began...This book reminds us--in generous detail--that the Fab Four were
just people."—John Kehe, Christian Science Monitor


"A real page-turner...A vibrant and exhaustive factual and
emotional picture of John, Paul, George, and Ringo's early life and
times...It actually adds some new information--or at least a fresh
analysis--to this often-told story...The lads's schoolboy years
are told in captivating detail...Engagingly written, meticulously
researched and documented, and tremendously insightful."—Ruminator Review


"Fresh, terrifically entertaining...Packed with details and
anecdotes that bring the Fab Four to life...Spitz's group portrait
should now be considered the definitive Beatles biography."—June Sawyers, Booklist