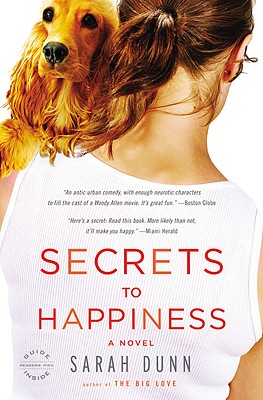 Secrets to Happiness (Paperback)
Back Bay Books, 9780316013604, 277pp.
Publication Date: July 2, 2010
* Individual store prices may vary.
or
Not Currently Available for Direct Purchase
Description
Holly Frick has just endured the worst kind of breakup: the kind where you're still in love with the person leaving you. While her wounds are still dangerously close to the surface, her happily married best friend confesses over a bottle of wine that she is this close to having an affair. And another woman comes to Holly for advice about her love life--with Holly's ex
Holly decides that if everyone around her can take pleasure wherever they find it, so will she. As any self-respecting 30ish New York woman would do, she brings two males into her life: a flawed but endearing dog, and a good natured, much younger lover. She's soon entangled in a web of emails, chance meetings, and misguided good intentions and must forge an entirely new path to Nirvana.
From the author of The Big Love, Secrets to Happiness is a big-hearted, knife-sharp, and hilariously entertaining story about the perils of love and friendship, sex and betrayal--and a thoroughly modern take on our struggle to be happy.
About the Author
Sarah Dunn has moved from Los Angeles to New York five times, and from New York back to Los Angeles four times, which means she is happily back in New York, where she lives with her husband, Peter Stevenson, and their son, Harry. Her first novel, The Big Love, has been translated into 23 languages.
Advertisement