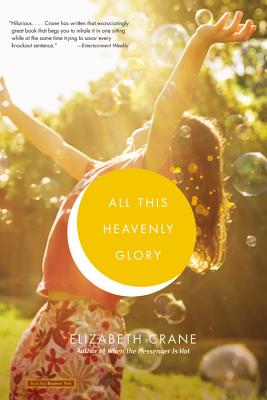 All This Heavenly Glory
Paperback

* Individual store prices may vary.
Description
A glittering book from the author hailed by the Chicago Tribune as "unique, intriguing, and often hilarious."

Here are the events that make up a life: a junior high school fashion crisis, a best friend's betrayal, substance abuse, recovery, finding a satisfying career, dating fiascos, the perfect relationship, the illness and slow death of a parent. This is the life of Charlotte Anne Byers, told by Elizabeth Crane, whose debut, When the Messenger Is Hot, has been praised across the country for its humor and grace.

From the time she moved to New York as a young girl, desperate to tame her ridiculed southern accent, Charlotte Anne Byers has struggled to fit in-even while her strong will makes her clash with everything and everyone around her. With her mother pursuing a career as an opera singer and her father returning to Iowa, Charlotte is caught in the divide between her parents' dreams. She finds a touchstone in Jenna, a friend who will be by Charlotte's side through the death of her mother, several failed career moves, even more failed romances, a detour into alcoholism, and finding true love. In her lifetime Charlotte finds hope and disappointment mingled with faith and desperation, laughter on the heels of weeping, and success assuaging the pain of the most embarrassing failures-her path both all her own and instantly familiar.

All This Heavenly Glory confirms Elizabeth Crane's talents as the writer the San Francisco Chronicle called "hilariously off kilter and utterly refreshing." With whimsy, skepticism, and undaunted emotional frankness, she paints a dazzling portrait of one woman's unique desires and heartbreaks.
Back Bay Books, 9780316014212, 256pp.
Publication Date: June 4, 2006