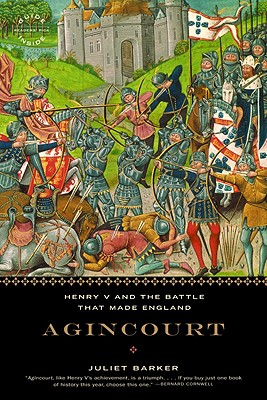 Agincourt
Henry V and the Battle That Made England
Paperback

* Individual store prices may vary.
Other Editions of This Title:
Hardcover (6/1/2006)
Description
From a master historian comes an astonishing chronicle of life in medieval Europe and the battle that altered the course of an empire.

Although almost six centuries old, the Battle of Agincourt still captivates the imaginations of men and women on both sides of the Atlantic.

It has been immortalized in high culture (Shakespeare's Henry V) and low (the New York Post prints Henry's battle cry on its editorial page each Memorial Day). It is the classic underdog story in the history of warfare, and generations have wondered how the English -- outnumbered by the French six to one -- could have succeeded so bravely and brilliantly.

Drawing upon a wide range of sources, eminent scholar Juliet Barker casts aside the legend and shows us that the truth behind Agincourt is just as exciting, just as fascinating, and far more significant. She paints a gripping narrative of the October 1415 clash between outnumbered English archers and heavily armored French knights. But she also takes us beyond the battlefield into palaces and common cottages to bring into vivid focus an entire medieval world in flux. Populated with chivalrous heroes, dastardly spies, and a ferocious and bold king, Agincourt is as earthshaking as its subject -- and confirms Juliet Barker's status as both a historian and a storyteller of the first rank.
Back Bay Books, 9780316015042, 464pp.
Publication Date: August 23, 2007
About the Author
Juliet Barker is the distinguished biographer of Wordsworth and the Brontë sisters. She is also a noted medievalist and lives with her family in the UK.