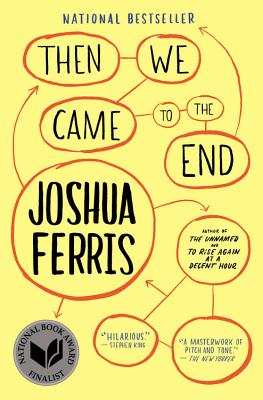 Then We Came to the End
A Novel
Paperback

* Individual store prices may vary.
Other Editions of This Title:
Digital Audiobook (2/28/2007)
Paperback (5/2/2017)
Description
Winner of the Hemingway Foundation / PEN Award, this debut novel is "as funny as The Office, as sad as an abandoned stapler . . . that rare comedy that feels blisteringly urgent." (TIME)

No one knows us in quite the same way as the men and women who sit beside us in department meetings and crowd the office refrigerator with their labeled yogurts. Every office is a family of sorts, and the Chicago ad agency depicted in Joshua Ferris's exuberantly acclaimed first novel is family at its best and worst, coping with a business downturn in the time-honored way: through gossip, elaborate pranks, and increasingly frequent coffee breaks.

With a demon's eye for the details that make life worth noticing, Joshua Ferris tells an emotionally true and funny story about survival in life's strangest environment—the one we pretend is normal five days a week.

One of the Best Books of the Year
Boston Globe * Christian Science Monitor * New York Magazine * New York Times Book Review * St. Louis Post-Dispatch * Time magazine * Salon
Praise For Then We Came to the End: A Novel…
"Hilarious in a Catch-22 way, but with an undercurrent of sadness that works counterpoint to all the absurdity."—Stephen King, New York Times Book Review

"A terrific first novel . . . awfully funny."—Nick Hornby, The Believer

"Ferris brilliantly captures the fishbowl quality of contemporary office life, where nothing much happens and the smallest events take on huge significance. . . . The narration (done in the technically challenging first-person collective) never falters, making this a masterwork of pitch and tone, in which individual characters are less important than the general mood of boredom leavened with camaraderie." —The New Yorker

"We in office world know these people. We work with them. But Joshua Ferris, in his virtuoso first novel, makes us see them. He writes in a conspiratorial tone of such delicious knowingness that I read Then We Came to the End with a great grin on my face. By turns hip, wicked, and incisive, the novel plumbs the nuances of office humiliation, soaring entitlement, goofy pranks, busy-making maneuvers, low-grade venality, and ever-present schadenfreude. . . . You won't want to miss it."—Karen Long, Cleveland Plain Dealer

"Mr. Ferris has our number. He smells our fear, our vulnerability. . . . His observations are often ticklish, making the book feel like the one we have rattling in our heads." —Emily Bobrow, New York Observer
Back Bay Books, 9780316016391, 416pp.
Publication Date: February 26, 2008
About the Author
Joshua Ferris's first novel, Then We Came to the End, has been translated into 24 languages. His fiction has appeared in the New Yorker, Granta, and Best American Voices. Ferris was chosen for the New Yorker's "20 Under 40" list of fiction writers in 2010. He lives in New York.
Coverage from NPR