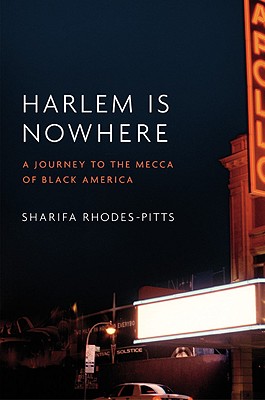 Harlem is Nowhere (Hardcover)
A Journey to the Mecca of Black America
Little, Brown and Company, 9780316017237, 304pp.
Publication Date: January 26, 2011
Other Editions of This Title:
Paperback (1/22/2013)
* Individual store prices may vary.
Description
For a century Harlem has been celebrated as the capital of black America, a thriving center of cultural achievement and political action. At a crucial moment in Harlem's history, as gentrification encroaches, Sharifa Rhodes-Pitts untangles the myth and meaning of Harlem's legacy. Examining the epic Harlem of official history and the personal Harlem that begins at her front door, Rhodes-Pitts introduces us to a wide variety of characters, past and present. At the heart of their stories, and her own, is the hope carried over many generations, hope that Harlem would be the ground from which blacks fully entered America's democracy.

Rhodes-Pitts is a brilliant new voice who, like other significant chroniclers of places -- Joan Didion on California, or Jamaica Kincaid on Antigua -- captures the very essence of her subject.

A finalist for the 2011 National Book Critics Circle Award in Autobiography, and a New York Times Notable Book of the Year.

"No geographic or racial qualification guarantees a writer her subject . . . Only interest, knowledge, and love will do that -- all of which this book displays in abundance." -- Zadie Smith, Harper's
About the Author
Sharifa Rhodes-Pitts's articles have appeared in the New York Times Magazine, New York Times Book Review, Essence, Harper's, Transition, and Vogue. She has received a Lannan Foundation fellowship and the Rona Jaffe Foundation Writers' Award, and was a Fulbright Scholar in 2007. Rhodes-Pitts was born in Texas and educated at Harvard University.
Praise For Harlem is Nowhere: A Journey to the Mecca of Black America…
"Sharifa Rhodes-Pitts has written a beautiful account of Harlem that tells us as much about the author, her life, her tastes, her politics, and her unique sensibility as it does about this extraordinary part of Manhattan. As a result,
Harlem Is Nowhere
is much more than a work of urban history; it is a work of literature."—
Ian Buruma, author of Murder in Amsterdam
"Sharifa Rhodes-Pitts has written a very striking meditation on Harlem as a place and a symbol, and at a time when Harlem is changing profoundly. She is a brilliant addition to the literature on Harlem that reaches back to James Baldwin and Ralph Ellison, to Langston Hughes and James Weldon Johnson. But hers is most definitely a fresh, new voice. There is a certain graceful cool, an unfailing aptness of tone, in her writing.
Harlem Is Nowhere
tells you things that you didn't know you didn't know about Harlem."—
Darryl Pinckney, author of Out There: Mavericks of Black Literature, and High Cotton, winner of the
"Sharifa Rhodes-Pitts has crafted a Harlem book that fluently and lyrically assays the geography, mythography, ethnography, and dream books of the fabled Black Mecca. It is also a record of her own insightful wanderings about uptown's still mean, mirthful, romantic, but now highly marketable streets. What Rhodes-Pitts contributes to the Harlem chronicles that others have only vaguely glimpsed is how eloquently, extravagantly, and defiantly the people rooted there take ownership of Harlem storytelling every damn day."
—
Greg Tate, author of Everything but the Burden
"In this beautiful and inventive book, Sharifa Rhodes-Pitts finds--in a stray photograph, the corridors of a library, a wax museum, or a sidewalk chalk tract--pathways that lead us through and around another Harlem, interior to the ones we have known, and unforgettable. Written in the visionary documentary tradition of James Agee, Walter Benjamin, and Ralph Ellison,
Harlem Is Nowhere
is a work of great imagination and quiet splendor."—
Rachel Cohen, author of A Chance Meeting: Intertwined Lives of American Writers and Artists (winner
"Rhodes-Pitts weaves a glittering living tapestry of snatches of overheard conversation, sidewalk chalk scribbles, want ads, unspoken social codes, literary analysis, studies of black slang-all of it held together with assurance and erudition. Like Zora Neale Hurston (whose contradictions she nails), she is 'tour-guide and interpreter' of a Mecca cherished and feared, a place enduring and threatened that becomes home."
—
Publishers Weekly (starred review)
"Rhodes-Pitts compares and contrasts her own experience of moving from Texas to Harlem with accounts from literature of the Harlem Renaissance and other cultural glories, and news reports of gentrification....Settling into her own place in Harlem, she offers vivid portraits of the residents, who straddle the past and present of the storied neighbourhood, many wondering themselves about their futures and the future of Harlem."
—
Vanessa Bush, Booklist
"A tender historical memoir....Throughout her studious love letter to her adopted home, Rhodes-Pitts is singing the Harlem Blues."—
Sean Carman, The Rumpus
"Sharifa Rhodes-Pitts's enlightening
Harlem Is Nowhere
takes a new approach in her look at the venerable community. Rather than crafting a detached, straightforward account, Rhodes-Pitts makes it personal...An inspiration memoir."—
Ron Wynn, BookPage
"As a teenager in Texas, Sharifa Rhodes-Pitts was 'quite fascinated' with Harlem. Channeling this passion...she published
Harlem Is Nowhere
, an urban history and meditation on the legendary neighbourhood."—
Vogue
"Sharifa Rhodes-Pitts give a marvellous tour through decades of iconic writings on Harlem....She commands a deep knowledge of the literature and applies it to individual buildings and streets--a unique and useful contribution. She quotes and intends to live by Alain Locke's 'The New Negro,' which warned, 'History must restore what slavery took away.' This is an admirable sentiment."
—
Julia Vitullo-Martin, New York Post
"An elegant, scholarly writer...Rhodes-Pitts unearths gems from Harlem's rich history, including the White Rose Society, a 1920s benevolent organization for young black girls migrating to the city; Raven Chanticler, a sharecropper's son who became a legendary dance and founder of black history wax museum, and I.S. Alexander Gumby, a turn-of-the-century intellectual who catalogued black history in a series of scrapbooks."
—
Joseph P. Williams JR., The Minneapolis Star Tribune
"Starting as a solitary Texas transplant in a kitchenless apartment on One-hundred-twentieth Street, Rhodes-Pitts uses photographs, books, and stories of lifetime locals to consider her own place as an observer an inhabitant of what is in many ways the symbolic epicentre of black America."
—
Antonia Jedrzejczak, Vogue
"
Harlem Is Nowhere
is a tender, improvisational memoir of several years spent exploring the myths of this capital of African America and the realities of its 21st-century incarnation....It is a pilgrimage, a celebration and a cautionary note. It also heralds the arrival of a writer whose voice fits right in with the literary forebears she reveres."—
Jane Ciabattari, NPR.com
"Ms. Rhodes-Pitts's is a voice you'll want to hear again, to recapture the scratchy buzz she's put into your head....Ms. Rhodes-Pitts drops us inside her wide-scanning cranium as she searches for her own version of Harlem...She seems most at home when she's flipping, pointedly, through the work of writers like Langston Hughes, Zora Neale Hurston, James Baldwin and Ellison himself. She has interesting, complicated things to say about each of them....She can be just as excellent--funny and endearing--about her own way of being in the world....This book's alive...It's intoxicating."
—
Dwight Garner, The New York Times
"Any neighborhood worthy of the name is a kind of shared dream, and no neighborhood in America better illustrates this principle than Harlem....it also has Rhodes-Pitts to account for its dream life, for what almost happened there but didn't and for what did happen but is only half-remembered, for what its people longed for and never got and for what they loved but could not hold onto....Rhodes-Pitts is one of that rare breed of writer who, on the strength of her hypnotic voice and idiosyncratic thinking, can turn every sentence into a crooked finger, impossible to resist....She is almost always willing to stop and listen and take notes before it's all gone forever....In a way
Harlem Is Nowhere
is a ghost story, whispering to the world that the Harlem of its dreams is going, going, gone and the Harlem that's now here (as opposed to 'nowhere') will likely soon follow. Catch it while you can."—
Laura Miller, Salon
"Rhodes-Pitts offers a stirring exploration of Harlem's geography, actual and imagined....She crafts a compelling narrative voice that is bracingly intimate yet capable of dilating to encompass a chorus of voice and opinions not her own."
—
Adam Bradley, The Barnes & Noble Review
"Harlem, once walled off by geography, then closed again by the dark will of the country, opens like a light to take its proper place at the center of the American spirit. Sharifa Rhodes-Pitts...has given us a guidebook for this kind of remembrance. Her book is not so much a history of Harlem as a kind of memoir of history. In its account of one person's ascent up the imposing hill of centuries of Harlem's stories, we have an example of how to read ourselves into the neighborhood, of how to think and how to believe when we rise out of the 125th Street Station and into the bright heart of Black America."—
David Kennedy Jones, The New York Times
"Sharifa Rhodes-Pitts's new book resists easy classification: It's part literary walking tour, part urban history, part memoir, and all beautiful prose....As Ralph Ellison, from whose 1948 essay Rhodes-Pitts borrows her book's title, wrote in
Invisible Man
: 'This really was Harlem, and now all the stories which I had heard of the city-within-a-city leaped alive in my mind...This was not a city of realities but of dreams.' Reading
Harlem Is Nowhere
, we're also watching Rhodes-Pitts chase this dream, and it's impossible to look away."—
Laura Moser, "Double X," Slate
"
Harlem Is Nowhere
...is a dazzling series of linked essays on Harlem as the living embodiment of...a place and time that might somehow mend the fractured history of African Americans and make it whole....Rhodes-Pitts honors the dreamers imagining what Harlem could be, while never losing sight of how each of them was thwarted by the disconnect between the heaven they envisioned and the reality they lived....We meet political agitators of all stripes, all of whom she treats with respect....It is her ability to not only see Harlem on its own terms but also grasp why Harlem matters that makes this book so exceptional....[Rhodes-Pitts has] the sharp eye of a reporter in prose, reminiscent of Joan Didion, that manages to be both remarkably cool and distinctly elegiac....She is walking toward a destination she has sought from the beginning--brave enough to seek it, and honest enough to tell us that she may never arrive."—
Mike Fischer, Milwaukee Journal Sentinel
"Boldly original cultural-studies sleuthing....A personal and poetic work, as the author attempts to reconcile her own street-level observances with the dreamlike utopian vision of Harlem."
—
Michael Sandlin, Time Out New York
"For the book's author, Sharifa Rhodes-Pitts, Harlem is a notional place, an idea threatened by a reality, existing most concretely in the minds of those who have loved and defended it. Rhodes-Pitts is one such, and her account of this stretch of land that may or may not begin at 110th Street and end at 168th is fittingly idiosyncratic, as much meditation as history....Like [Virginia] Woolf, Rhodes-Pitts is bookish and devoted, interested in everyday matters: how people walk and talk, dress, go about their day....Here individual experience is honored, and judgment reserved....this is a lovely book about the romance--and dangers--of bibliophily....No geographic or racial qualification guarantees a writer her subject....Only interest, knowledge, and love will do that--all of which this book displays in abundance."—
Zadie Smith, Harper's
"By weaving the past and the present together, Rhodes-Pitts reveals, even to those who may have never ventured into Harlem, why it is a place of dreams and why it endures. And most important, she pushes her readers to explore the books and writers that made Harlem such a place of imagination and memory. For a reader like me, it just doesn't get any better."
—
W. Ralph Eubanks, National Public Radio
"Sharifa Rhodes-Pitts is a gifted young writer."
—
USA TODAY
"An expression of Harlem's wondrous complexities...Rhodes-Pitts' ambivalence-her deeply rooted participation in Harlem life and her distant, reportorial observation and documentation of the Harlem world-is the book's core. The author-protagonist's negotiation of these conflicting roles produce the work's most searing, intelligent passages."
—
Walton Muyumba, Dallas Morning News
"A soul-scoping personal essay and a well-researched, deeply indexed, would-be-boring-if-not-written-by-a-Sista version of Harlem history. Rhodes-Pitts' work here is significant because...[it] personalizes and accurately describes the history, architecture, humanism, and depth of Harlem in a manner satisfactory to longtime borough residents, short-term visitors, and those who have never set foot there."
—
Ebony
Book Videos
Coverage from NPR
or
Not Currently Available for Direct Purchase