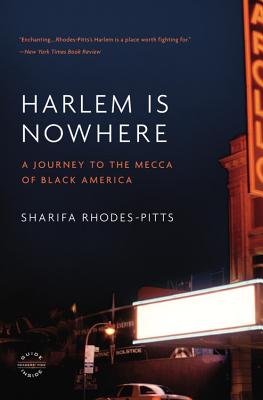 Harlem Is Nowhere (Paperback)
A Journey to the Mecca of Black America
Back Bay Books, 9780316017244, 320pp.
Publication Date: January 22, 2013
Other Editions of This Title:
Hardcover (1/26/2011)
* Individual store prices may vary.
Description
For a century Harlem has been celebrated as the capital of black America, a thriving center of cultural achievement and political action. At a crucial moment in Harlem's history, as gentrification encroaches, Sharifa Rhodes-Pitts untangles the myth and meaning of Harlem's legacy. Examining the epic Harlem of official history and the personal Harlem that begins at her front door, Rhodes-Pitts introduces us to a wide variety of characters, past and present. At the heart of their stories, and her own, is the hope carried over many generations, hope that Harlem would be the ground from which blacks fully entered America's democracy.

Rhodes-Pitts is a brilliant new voice who, like other significant chroniclers of places -- Joan Didion on California, or Jamaica Kincaid on Antigua -- captures the very essence of her subject.

A finalist for the 2011 National Book Critics Circle Award in Autobiography, and a New York Times Notable Book of the Year.

"No geographic or racial qualification guarantees a writer her subject . . . Only interest, knowledge, and love will do that -- all of which this book displays in abundance." -- Zadie Smith, Harper's
About the Author
Sharifa Rhodes-Pitts's articles have appeared in the New York Times Magazine, New York Times Book Review, Essence, Harper's, Transition, and Vogue. She has received a Lannan Foundation fellowship and the Rona Jaffe Foundation Writers' Award, and was a Fulbright Scholar in 2007. Rhodes-Pitts was born in Texas and educated at Harvard University.
Praise For Harlem Is Nowhere: A Journey to the Mecca of Black America…
"An elegant writer...Rhodes-Pitts unearths gems from Harlem's rich history."—Joseph P. Williams JR., The Minneapolis Star Tribune

"Harlem Is Nowhere is...a pilgrimage, a celebration and a cautionary note. It also heralds the arrival of a writer whose voice fits right in with the literary forebears she reveres."—Jane Ciabattari, NPR.com

"This book's alive...it's intoxicating."—Dwight Garner, The New York Times

"Rhodes-Pitts is one of that rare breed of writer who, on the strength of her hypnotic voice and idiosyncratic thinking, can turn every sentence into a crooked finger, impossible to resist."—Laura Miller, Salon

"Rhodes-Pitts honors the dreamers imagining what Harlem could be, while never losing sight of how each of them was thwarted by the disconnect between the heaven they envisioned and the reality they lived."—Mike Fischer, Milwaukee Journal Sentinel


"Dazzling riffs on the cultural citadel of Black America."—Boyd Tonkin, "Best Books of the Year," Independent

"Rhodes-Pitts reveals, even to those who may have never ventured into Harlem, why it is a place of dreams and why it endures."—--W. Ralph Eubanks, National Public Radio

"A fine debut...Like a young Joan Didion, Rhodes-Pitts stands in the corner with her notebook out...And, as with Didion, the thread keeping these disparate scraps together is her singular voice."—Thomas Chatterton Williams, The American Scholar

"Enchanting...Rhodes-Pitts's Harlem is a place worth fighting for."—Kaiama Glover, New York Times Book Review