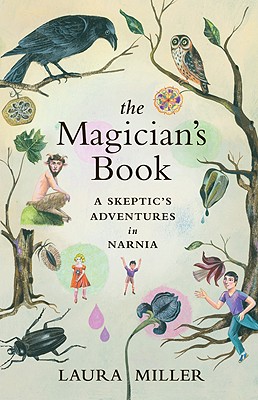 The Magician's Book
A Skeptic's Adventures in Narnia
Hardcover

* Individual store prices may vary.
Other Editions of This Title:
Paperback (12/2/2009)
Description
THE MAGICIAN'S BOOK is the story of one reader's long, tumultuous relationship with C.S. Lewis' The Chronicles of Narnia. Enchanted by its fantastic world as a child, prominent critic Laura Miller returns to the series as an adult to uncover the source of these small books' mysterious power by looking at their creator, Clive Staples Lewis. What she discovers is not the familiar, idealized image of the author, but a more interesting and ambiguous truth: Lewis's tragic and troubled childhood, his unconventional love life, and his intense but ultimately doomed friendship with J.R.R. Tolkien.


Finally reclaiming Narnia "for the rest of us," Miller casts the Chronicles as a profoundly literary creation, and the portal to a life-long adventure in books, art, and the imagination.
Praise For The Magician's Book: A Skeptic's Adventures in Narnia…
"Conversational, embracing, and casually erudite, Laura Miller's superb long essay is the kind that comes along too rarely, a foray into the garden of one book that opens to the whole world of reading, becoming in the process a subtle reader's memoir, and manifesto."

"This is a magical weave of rich soulful criticism, at once a distinctive and insightful biography of C.S. Lewis, and a memoir of the author, who fell in love with Narnia as a wide-eyed young girl, and revisits it as a grown-up. Entering Narnia again, at once apathetic and anxious about its Christian allegory, Miller creates an amazing literary work: in uncovering the vulnerability and limitations of C.S. Lewis, she finds within his pages a limitless and lasting work of imagination and human meaning, for all readers, of all ages and inclinations. I couldn't put it down, even as I felt tremendous anticipation of picking up The Chronicles of Narnia again, forty-five years after I first fell in love with it, too."

"To those who have found C. S. Lewis's Narnia books altogether too druidic and allegorical, Laura Miller brings some interesting news: this is true, but it is only true. Along with her fascinating insights into the world of Narnia and the mind that conjured it, Miller provides one of the best explanations I have ever read about why so-called children's literature is so inimitably affecting. This book is both a wonderful antechamber to Lewis's wardrobe portal and a convincing attempt to rescue Aslan from the Christian imagination and embed him where he has always belonged--the human imagination."

"A thorough and thoroughly engrossing look at one reader's lifetime love affair with Narnia. You need not be a Lewis fan nor aficionado to enjoy Miller's book, though a few of your own affairs with imaginary places and people probably help. Smart, meticulous, and altogether delightful."

"An agreeable and insightful book...her sometimes affectionate, sometimes analytical book will delight both skeptics and true believers."
-Booklist

"In a braided narrative Miller weaves together details about the life of C. S. Lewis, her personal journey with his books, and astute observations about how children and adults read....Anyone who believes in the power of literature will want to savor The Magician's Book. In the end you feel as if you have had a stimulating literary conversation with a group of very smart and savvy friends."

"A rewarding study by a first-rate arts writer."
-Kirkus

"Jam-packed with critical insights and historical context, this discussion of C.S. Lewis's Chronicles of Narnia...is intellectually inspiring."
-Publishers Weekly

"Of all the critics writing today, I trust Laura Miller the most, because her peerless critical intelligence and extraordinary erudition are in perfect balance with her love of books and her deep sympathy for writers. Reading her thrilling new book about C. S. Lewis and his Narnia series is like sitting down with the smartest and least tendentious person you know and dishing your favorite books. I came away from this book feeling thoroughly informed, entertained, and inspired."

"Miller has created a rare and beautiful beast: a book with the head of a critique, the body of a bibliography, and the heart of a memoir. By recapturing Narnia, she redeems our passion and allows readers to re-discover the wonder of first love. That's some trick."
-Vanity Fair

"At a time when Pierre Bayard is teaching us how to talk about books we haven't read, it is refreshing to come across an author who shows us how to talk about the books we love...she also moves us beyond childhood, revealing that the books we loved as children can continue to quicken and expand our imaginations, especially when we have a guide like this one to help us understand the miracle of how Lewis produced the intoxicating and addictive Chronicles of Narnia."
-BookForum

"More than a literary critique or an exercise in nostalgia, these essays are a tribute to the power and depth of story and imagination, and to the pure joy of reading. Though the grown critic realized how the magician does his tricks, something of the childhood magic remains."
-BookPage

"An engrossing examination of the importance of children's literature...Part memoir, part passionate reassessment of the lost literary pleasures of childhood, Magician is a beautiful and thoughtful journey back to why we read."
-People

"Miller doesn't give Lewis a complete pass for expressing such retrograde chauvinism, but it's a continually refreshing characteristic of The Magician's Book that she comes down, again and again, on the side of imaginative liberality."
-Wall Street Journal

"[Miller is] a fine writer, able to skillfully mix in references to Wordsworth and Laura Ingalls Wilder and Led Zepplin. Her ability to place Lewis and his works in a historical and personal context will entertain and illuminate even casual fans of the Narnia books."
-Dallas Morning News

"A lucid and vibrant tale."
-Salon.com

"The Magician's Book is an engrossing story of a reader's education. Empathetic, rigorous, erudite, funny, generous and surprising, it is easily the best book ever written about Lewis. Miller draws sound and dazzling connections among the details of his life and literary inspirations, which ranged from medieval epics to the Victorian forerunners of modern fantasy. (She can tell you which Led Zeppelin album cover folds out to show a picture of Dunluce, the Irish castle that may have inspired Narnia's Cair Paravel.)"
-L.A. Times

"Think of [THE MAGICIAN'S BOOK] as an extended literary appreciation shot through with illuminating shafts of memoir, scholarship, biography and conversational interviews. Reading it is like sitting down for the afternoon with a fellow Narnia nut who is much more erudite than you are but genial and amusing enough never to intimidate or bore...Stick with her."
-Washington Post Bookworld

"Miller's book is itself a welcome bit of magic: part reader's log, part biography, part literary criticism. She relates much that is familiar about Lewis's life and a little that is less well known...Miller has learned much from Lewis, not least a bracingly colloquial, honest, intimate tone."
-The New York Times Book Review

"a lovely, bookish examination of [Miller's] first great literary love and the book(s) that inspired it. . . . There are two great pleasures to be found in THE MAGICIAN'S BOOK. One is being reminded of exactly how blissful it felt to be a child in the thrall of a book. The other is watching Miller find her way back to Narnia as an adult - where she discovers that a wiser reader is not necessarily a sadder one."
-Christian Science Monitor

"In The Magician's Book, Miller overcomes that initial revulsion to offer a multifaceted portrait of the sources of Lewis's masterwork, as diverse as his disdain for the English class system and his fascination with Norse mythology.... Miller enlivens her treatment by discoursing with authors like Jonathan Franzen, Neil Gaiman and Philip Pullman, whose opinions of Lewis's creation are diverse and not always flattering.... She's offered a mature portrait of C.S. Lewis's creation that still contains a spark of the childhood wonder that ignited her passion for literature....From the evidence of Laura Miller's enduring enchantment with the world of Narnia, is there any question that's true?"
-Shelf Awareness

"[Miller's] lucid prose and varied reference materials do a fantastic job sketching out the complicated terrain of Lewis' celebrated creation...she never loses sight of Lewis' greatest vocational gift: He read vociferously, with a determinedly open mind and a willingness to be swept away by words. Many children read like that instinctively, but Miller does a good job of reminding adults that it's still possible."
-San Francisco Chronicle

"Miller is particularly interested in how and why we read - what we take from books but also what we bring to them. She probes, for instance, our worship (which usually doesn't end well) of writers and our identification with characters...and gives us piquant glimpses of her past and present selves."
-Newsday

"A journey of great pleasure--Miller is a wise, down-to-earth and often funny narrator. The result is one of the best books about stories and their power that I have ever read."
-Seattle Times

"Truly original."
-Boston Globe

"A powerful meditation on 'the schism between childhood and adult reading.'"
-The New Yorker
Little, Brown and Company, 9780316017633, 320pp.
Publication Date: December 1, 2008
or
Not Currently Available for Direct Purchase