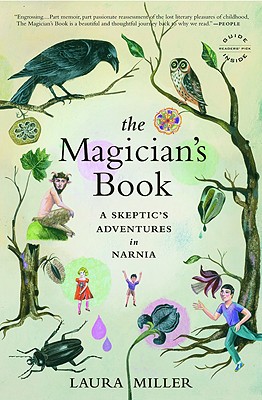 The Magician's Book
A Skeptic's Adventures in Narnia
Paperback

* Individual store prices may vary.
Description
Enchanted by Narnia's fantastic world as a child, prominent critic Laura Miller returns to the series as an adult to uncover the source of these small books' mysterious power by looking at their creator, Clive Staples Lewis.

What she discovers is not the familiar, idealized image of the author, but a more interesting and ambiguous truth: Lewis's tragic and troubled childhood, his unconventional love life, and his intense but ultimately doomed friendship with J.R.R. Tolkien.

Finally reclaiming Narnia "for the rest of us," Miller casts the Chronicles as a profoundly literary creation, and the portal to a lifelong adventure in books, art, and the imagination.
Praise For The Magician's Book: A Skeptic's Adventures in Narnia…
"Empathetic, rigorous, erudite, funny, generous, and surprising....THE MAGICIAN'S BOOK abounds with a rare quality that most literary criticism lacks, the quality of hopeful longing that helped lead C. S. Lewis to imagine Narnia, the quality that he prized above almost all others: joy."—Los Angeles Times

"Weaving together her own life as a reader and C. S. Lewis's life as, among other things, a reader, a writer, a Christian, a veteran of World War I, and a friend to J.R.R. Tolkien, Miller illuminates not only the Chronicles of Narnia, but the nature of reading itself."—Time

"There are two great pleasures to be found in THE MAGICIAN'S BOOK. One is being reminded of exactly how blissful it felt to be a child in the thrall of a book. The other is watching Miller find her way back to Narnia as an adult-where she discovers that a wiser reader is not necessarily a sadder one."—Christian Science Monitor

"Conversational, embracing, and casually erudite... a subtle reader's memoir, and manifesto."—Jonathan Lethem

"Amagical weave of rich soulful criticism, at once a distinctive and insightful biography of C.S. Lewis, and a memoir of the author....I couldn't put it down."—Anne Lamott, author of Grace (Eventually)

"This book is both a wonderful antechamber to Lewis's wardrobe portal and a convincing attempt to rescue Aslan from the Christian imagination and embed him where he has always belonged--the human imagination."—Tom Bissell, author of The Father of All Things

"A thorough and thoroughly engrossing look at one reader's lifetime love affair with Narnia... Smart, meticulous, and altogether delightful."—Karen Joy Fowler, author of The Jane Austin Book Club

"An agreeable and insightful book...her sometimes affectionate, sometimes analytical book will delight both skeptics and true believers."—Michael Cart, Booklist

"...Anyone who believes in the power of literature will want to savor The Magician's Book. In the end you feel as if you have had a stimulating literary conversation with a group of very smart and savvy friends."—Anita Silvey, author of 100 Best Books for Children

"A rewarding study by a first-rate arts writer."—Kirkus

"Jam-packed with critical insights and historical context, this discussion of C.S. Lewis's Chronicles of Narnia...is intellectually inspiring."—Publishers Weekly

"...Reading [Miller's] thrilling new book about C. S. Lewis and his Narnia series is like sitting down with the smartest and least tendentious person you know and dishing your favorite books. I came away from this book feeling thoroughly informed, entertained, and inspired."—James Hynes, author of The Lecturer's Tale and Kings of Infinite Space
Back Bay Books, 9780316017657, 336pp.
Publication Date: December 2, 2009
About the Author
Laura Miller is a journalist and critic. She is a cofounder of Salon.com, where she is currently a staff writer, and is the editor of The Salon.com Readers Guide to Contemporary Authors. A regular contributor to the New York Times Book Review, her work has also appeared in the New Yorker, the Los Angeles Times, Time, and other publications. She lives in New York.