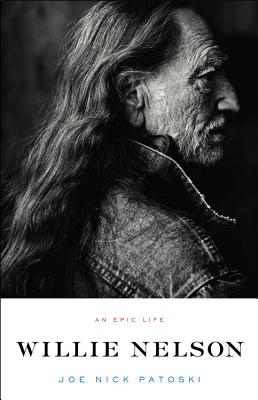 Willie Nelson: An Epic Life (Hardcover)
An Epic Life
Little, Brown and Company, 9780316017787, 576pp.
Publication Date: April 1, 2008
* Individual store prices may vary.
or
Not Currently Available for Direct Purchase
Description
From his first performance at age four, Willie Nelson was driven to make music and live life on his own terms. But though he is a songwriter of exceptional depth - "Crazy" was one of his early classics - Willie only found success after abandoning Nashville and moving to Austin, Texas.
"Red Headed Stranger "made country cool to a new generation of fans. "Wanted: The Outlaws "became the first country album to sell a million copies. And "On the Road Again" became the anthem for Americans on the move. A craggy-faced, pot-smoking philosopher, Willie Nelson is one of America's great iconoclasts and idols.
Now Joe Nick Patoski draws on over 100 interviews with Willie and his family, band, and friends to tell Nelson's story, from humble Depression-era roots, to his musical education in Texas honky-tonks and his flirtations with whiskey, women, and weed; from his triumph with #1 hit "Always On My Mind" to his nearly career-ending battles with debt and the IRS; and his ultimate redemption and ascension to American hero.
About the Author
Joe Nick Patoski has been writing about Willie Nelson for 35 years for a number of publications including No Depression, Texas Monthly, Rolling Stone, Country Music, TV Guide, Picking Up the Tempo, and the Austin American-Statesman. The co-author and author of biographies of Stevie Ray Vaughan and Selena and a contributor to the Rolling Stone Illustrated History of Rock and Roll and Conjunto, Patoski lives in the Texas Hill Country near the village of Wimberley.
Praise For Willie Nelson: An Epic Life…
A mind-bogglingly thorough biography,
-The Village Voice

Patoski pulls together a rich narrative that keenly comprehends Nelson's artistic and geographical perambulations. The author is especially fine in the early going, colorfully recalling Willie's many years on the beer-joint circuit and the cast of sketchy characters who trod those hardwood floors. But Nelson doesn't get any free passes: Patoski dwells in depth on his capriciousness, quick temper, hard-partying lifestyle, infidelities and four tempesturous marriages, as well as his headline-making '90s tax case. The result is a warm, honest portrait of a compulsively footloose, restless artist at home in any musical style ... and truly at home only on his tour bus.

Patoski's profound understanding of Nelson's life, character and milieu make this the Willie bio to get.
-Kirkus (starred review)

This impressive, entertaining chronicle of
Willie Nelson's life is replete with exactly what you'd expect-honky-tonk, long
nights on the open road, whiskey, womanizing and weed-but Texas writer Patoski
(Stevie Ray Vaughan: Caught in the Crossfire, Texas Mountains)
looks beyond country music trappings to find the funny, talented, determined
man who became an unlikely icon. ...
Patoski conducted over a hundred interviews for this thorough,
well-noted "epic," peopling it with "pickers, gypsies, pirates, vagabonds,
wanderers and carneys," including fellow performers like Kris Kristofferson,
Kinky Friedman and Leona Williams. Writing with an affectionate country twang,
Patoski gives his subject the consideration he deserves in a fine, fluid piece
of storytelling that any Nelson fan will appreciate.
-Publisher's Weekly

An expansive, engrossing, and epic look at the life of a true American icon. Required reading for music fans and scholars. Former Texas Monthly writer Patoski infuses his biography of Willie Nelson with an encyclopedic knowledge of Texas history that deftly illuminates the depth of influence the land and people of Texas had in shaping Nelson. ... The author's deep, intimate knowledge of Texas and informed love of country music add layers of nuance and detail to his portrait of the complex singer.
-Library Journal

For a guy who isn't me, Joe Nick Patoski can really write. Willie Nelson: An Epic Life is heartbreaking enough to have been ghostwritten by Hank Williams. It may be the best book ever written about the life of Texas's greatest gift to the world.

Joe Nick Patoski has here conjured a biography that by far transcends its subject, a book whose evocations of time, place, and spirit are as masterful as they are enthralling.

Nelson fans will have their blue eyes cryin' in the rain-with joy-over the arrival of such a richly report bio. There are scores of funny firsthand stories in his account of how a ramshackle hillbilly career sparked an unlikely convergence of redneck, hippie, and Hollywood culture.
-Entertainment Weekly

Patoski tells wonderful stories, infusing his narrative with rich detail illustrating Willie's artistic development and its roots in his family's pre-Texas years in Arkansas.
-Austin-American Stateman

Veteran author and music writer Joe Nick Patoski spent enough time around Nelson and his friends to fill a few dozen chapters of "Willie Nelson: An Epic Life" and still leave us wanting more.
-Los Angeles Times

Based on scores of interviews (including with Nelson himself), it's a lively, substantive account, closer to the treatment given a world-historical figure than a laid-back guitar picker. With Willie Nelson: An Epic Life, Patoski has written a fine book worthy of Willie.
-Houston Chronicle

A freelance writer with a strong interest in Texas and its music, he seems to have tracked down every song Nelson ever wrote, every engagement he ever played, every recording he ever made, and so far as I can tell he has left out absolutely nothing.
-The Washington Post

"Excellent... Seamlessly weaves together the good, the bad and the ugly to form a three-dimensional portrait of the singer.... For Nelson, his hit 1980 single 'On the Road Again' isn't just a silly song he wrote for the movie Honeysuckle Rose--it's literally the story of his life. And Patoski has fleshed it out beautifully.
-Rolling Stone
Advertisement