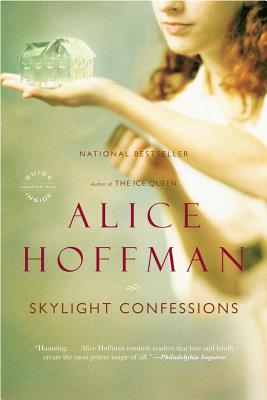 Skylight Confessions (Paperback)
Back Bay Books, 9780316017879, 262pp.
Publication Date: May 6, 2016
Description
Writing at the height of her powers, Alice Hoffman conjures three generations of a family haunted by love.
Cool, practical, and deliberate, John is dreamy Arlyn's polar opposite. Yet the two are drawn powerfully together even when it is clear they are bound to bring each other grief. Their difficult marriage leads them and their children to a house made of glass in the Connecticut countryside, to the avenues of Manhattan, and to the blue waters of Long Island Sound. Glass breaks, love hurts, and families make their own rules. Ultimately, it falls to their grandson, Will, to solve the emotional puzzle of his family and of his own identity.
About the Author
Alice Hoffman is the bestselling author of seventeen acclaimed novels, including The Ice Queen, Practical Magic, Here on Earth, The River King, Blue Diary, Illumination Night, Turtle Moon, Seventh Heaven, and At Risk, as well as the highly praised story collections Local Girls and Blackbird House.
Praise For Skylight Confessions…
"Hoffman's shimmering, multigenerational melodrama bewitches with supernatural imagery while imaginatively dramatizing all-too-common heartaches."
-Booklist

"Among the many pleasures of Skylight Confessions is a sense of continuous corner-turning, a chain of surprises. . . . Skylight Confessions is about the unresolvable contradictions that lie at the heart of life."
-Boston Globe

"Hoffman's brand of magical realism squeezes caring out of hard-to-reach places and ends up being a celebration of love."
-Good Housekeeping

"Wholly original and haunting."
-Parade

"Hoffman is one of our great storytellers and one who knows the American family in all its many facets. In Skylight Confessions, she has once again written a story and characters that are truly unforgettable. A novel to be savored."
-Baltimore Sun

"Haunting. . . . This isn't just Hoffman's best recent novel; it's one of the best of a distinguished list. . . . Long after the last page is turned, the characters and their stories are impossible to forget."
-St. Louis Post-Dispatch

"Alice Hoffman remains a literary sorceress par excellence. . . . In a novel that unfolds like a dream, Hoffman reminds readers that love and family create the most potent magic of all."
-Philadelphia Inquirer

"Alice Hoffman has written her most spellbinding, accomplished novel yet. . . . Although this is Hoffman's nineteenth book, it feels utterly fresh. Her voice -- touched by the cadences of fairy tales -- buoys us through the novel's saddest currents."
-More

"Achingly beautiful and filled with heart-wrenchingly real characters: one of Hoffman's best."
-Kirkus Reviews (starred review)
Advertisement