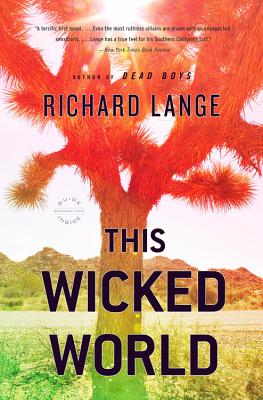 This Wicked World
A Novel
Paperback

* Individual store prices may vary.
Description
Elmore Leonard meets Denis Johnson in this explosive first novel set on the seedy side of Southern California.

Ex-marine Jimmy Boone-former bodyguard to Los Angeles's rich and famous-is fresh out of Corcoran, on parole, and trying to keep his nose clean until he figures out his next move. He has a job tending bar on Hollywood Boulevard, serving drinks to tourists, and is determined to put the past behind him.

But trying to do the right thing has always been Boone's downfall. When he backs up a buddy on a hero-for-hire gig -- looking into the mysterious death of a kid on a downtown bus -- he once again finds himself in a world of trouble.

As Boone learns more about the boy, an innocent who got involved with the wrong people, his investigation becomes a mission. Along the dangerous margins of Los Angeles, he encounters down-on-their-luck drug dealers, a vengeful stripper, a dog-fighting ring, a beautiful ex-cop, a vicious crime boss and his crew, and a fortune in counterfeit bills. Before long, Boone realizes that his quest to get at the truth about a ruthless murder may also turn out to be his last chance at redemption.

This Wicked World is a knock-out blend of superb writing and breakneck storytelling that grabs you by the collar and makes it impossible to stop reading.
Praise For This Wicked World: A Novel…
PRAISE FOR THIS WICKED WORLD:

"Terrific....Even the most ruthless villains are drawn with an unexpected sensitivity to their essential humanity."—Marilyn Stasio, New York Times Book Review

"Lange is incapable of creating a character that isn't memorable. Even the most minor are indelibly sketched....Lange has a knack for miniature Southern California tableaux, those things that we notice out of the corner of our eyes....The zone where literary fiction meets genre fiction is a crowded borderland these days. With This Wicked World, Lange proves himself comfortable on both sides of the line."—Antoine Wilson, Los Angeles Times

"Lange draws indelible characters and writes deadeye dialogue, and his L.A. is as parched and pitiless as the desert that surrounds it....This Wicked World is wickedly good-and we have a feeling that Lange is just getting started."—Keir Graff, Booklist

"Memorable....Richard Lange's first book set the bar so high that his sophomore effort had almost no chance of living up to the hype-except that it does, an L.A. Confidential for the 21st Century....It's a sharp, literary crime novel with the kind of lean and sparse prose that writers like Elmore Leonard and Richard Stark honed to a razor's edge. It's also a worthy entry in the proud tradition of Los Angeles noir novels started by James M. Cain and Raymond Chandler....A lot of writers try to write like this, but Lange just does it and he makes it work."—David J. Montgomery, Daily Beast

"Set in L.A., Lange's visceral, hard-hitting first novel puts him squarely in the ring with the best young neo-noir writers....Lange, the author of the story collection Dead Boys, shows he has the potential to put his own distinctive mark on the mythology of Los Angeles."—Publishers Weekly

"Ex-con tries to keep straight in this hard-boiled first novel....Compelling characters. Even the minor players are fully-formed, and Lange manages to depict a little bit of L.A. with each one....Smartly entertaining noir."—Kirkus Reviews

PRAISE FOR DEAD BOYS:

"Lange's stories are knockouts. Gritty, humane, and utterly urban. I can't wait to see what he does next."—Alice Sebold

"Stylistically brilliant, painfully and truly observed and rendered, Dead Boys is not just one of the best collections thus far this decade: Dead Boys is one of the best short story collections of the past fifty years, right up there with Barry Hannah's Airships, Chris Offutt's Kentucky Straight, James Baldwin's Going to Meet the Man, and Flannery O'Connor's A Good Man Is Hard to Find."—Eric Williamson, San Francisco Chronicle

"The best debut collection we have read all year....You could shelve Lange between Denis Johnson, Richard Ford, and Richard Yates, and no fights would break out...Lange writes with tremendous heart."—Tod Goldberg, E! Online
Back Bay Books, 9780316018791, 432pp.
Publication Date: May 17, 2010
About the Author
Richard Lange is the author of the story collections Dead Boys and Sweet Nothing and the novels This Wicked World and Angel Baby. He is the recipient of a Guggenheim Fellowship, the International Association of Crime Writers' Hammett Prize, and the Rosenthal Family Foundation Award from the American Academy of Arts and Letters. He lives in Los Angeles.