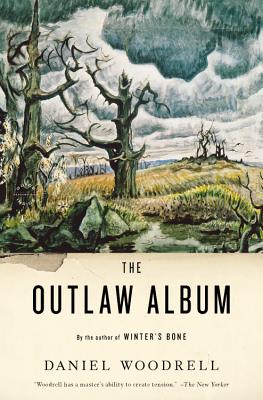 The Outlaw Album (Paperback)
Little Brown and Company, 9780316019002, 208pp.
Publication Date: October 9, 2012
Description
Twelve timeless Ozarkian tales of those on the fringes of society, by a "stunningly original" (Associated Press) American master.

Daniel Woodrell is able to lend uncanny logic to harsh, even criminal behavior in this wrenching collection of stories. Desperation-both material and psychological--motivates his characters. A husband cruelly avenges the killing of his wife's pet; an injured rapist is cared for by a young girl, until she reaches her breaking point; a disturbed veteran of Iraq is murdered for his erratic behavior; an outsider's house is set on fire by an angry neighbor.

There is also the tenderness and loyalty of the vulnerable in these stories--between spouses, parents and children, siblings, and comrades in arms-which brings the troubled, sorely tested cast of characters to vivid, relatable life. And, as ever, "the music coming from Woodrell's banjo cannot be confused with the sounds of any other writer" (Donald Harington, Atlanta Journal Constitution).
About the Author
Five of Daniel Woodrell's eight published novels were selected as New York Times Notable Books of the Year. Tomato Red won the PEN West Award for the Novel in 1999, and The Death of Sweet Mister received the 2011 Clifton Fadiman Medal. Woodrell lives in the Ozarks near the Arkansas line with his wife, Katie Estill.
Praise For The Outlaw Album…
"He's chipped an impression of the Ozarks and its people in stone that will endure time....Let these stories be your Bible."
-Associated Press

"An intense volume of fury and blood in the Ozarks, The Outlaw Album crystallizes Woodrell's slicing wit and unflinching confrontation with criminality and tragedy."
-Kansas City Star

"Ozark writer Daniel Woodrell's first collection of short stories, The Outlaw Album is a stunner. Woodrell has the rare ability to tell compelling stories rooted in familiar soil that are simultaneously simple and complex, local and universal, funny and tragic."
-St. Louis Post-Dispatch, "Best Books of 2011"
Advertisement