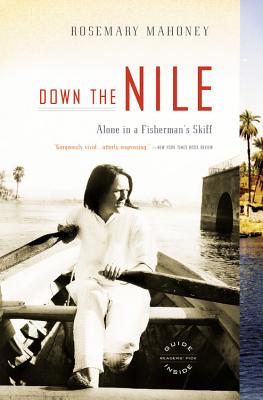 Down the Nile (Paperback)
Alone in a Fisherman's Skiff
Back Bay Books, 9780316019019, 304pp.
Publication Date: September 15, 2008
* Individual store prices may vary.
Description
When Rosemary Mahoney, in 1998, took a solo trip down the Nile in a seven-foot rowboat, she discovered modern Egypt for herself. As a rower, she faced crocodiles and testy river currents; as a female, she confronted deeply-held beliefs about foreign women while cautiously remaining open to genuine friendship; and, as a traveler, she experienced events that ranged from the humorous to the hair-raising--including an encounter that began as one of the most frightening of her life and ended as an edifying and chastening lesson in human nature and cultural misunderstanding. Whether she's meeting Nubians and Egyptians, or finding connections to Westerners who traveled up the Nile in earlier times--Florence Nightingale and Gustave Flaubert among them--Mahoney's informed curiosity about the world never ceases to captivate the reader.
"A pilgrimage about pilgrims and holy places that is not only enlightening but also very funny." -Paul Theroux (on
The Singular Pilgrim
)
"Mahoney is a wonderfully effective catalytic agent: she goes to Ireland and just makes the country happen around her." -Jonathan Raban (on
Whoredom in Kimmage
)
"Mahoney, who has been rowing for 10 year, brilliantly juxtaposes an account of her own palm-blistering hours on the Nile....with the diary entries of two Victorian travelers-Gustave Flaubert and
Florence
Nightingale."
--
Lisa Fugard, New York
Times Book Review
About the Author
Rosemary Mahoney is the author of The Early Arrival of Dreams, a New York Times Notable Book; Whoredom in Kimmage, a National Book Critics Circle Award finalist; A Likely Story: One Summer with Lillian Hellman; The Singular Pilgrim: Travels on Sacred Ground; and Down the Nile: Alone in a Fisherman's Skiff, a New York Times Notable Book. She is the recipient of a Whiting Writer's Award.