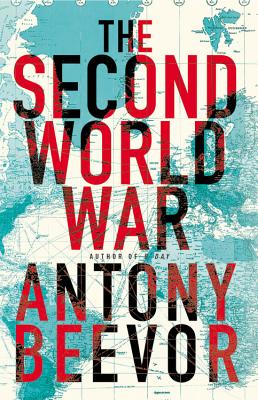 The Second World War (Hardcover)
Little, Brown and Company, 9780316023740, 880pp.
Publication Date: June 5, 2012
Other Editions of This Title:
Digital Audiobook (6/4/2012)
Paperback (5/7/2013)
Other (6/1/2012)
* Individual store prices may vary.
Description
A masterful and comprehensive chronicle of World War II, by internationally bestselling historian Antony Beevor.
Over the past two decades, Antony Beevor has established himself as one of the world's premier historians of WWII. His multi-award winning books have included
Stalingrad
and
The Fall of Berlin 1945
. Now, in his newest and most ambitious book, he turns his focus to one of the bloodiest and most tragic events of the twentieth century, the Second World War.
In this searing narrative that takes us from Hitler's invasion of Poland on September 1
st
, 1939 to V-J day on August 14
th
, 1945 and the war's aftermath, Beevor describes the conflict and its global reach--one that included every major power. The result is a dramatic and breathtaking single-volume history that provides a remarkably intimate account of the war that, more than any other, still commands attention and an audience.
Thrillingly written and brilliantly researched, Beevor's grand and provocative account is destined to become the definitive work on this complex, tragic, and endlessly fascinating period in world history, and confirms once more that he is a military historian of the first rank.
About the Author
Antony Beevor served as a regular officer in the 11th Hussars in Germany. He is the author of Crete-The Battle and the Resistance, which won a Runciman Prize, Paris After the Liberation, 1944-1949 (written with his wife Artemis Cooper), Stalingrad, which won the Samuel Johnson Prize, the Wolfson Prize for History and the Hawthornden Prize for Literature, Berlin-The Downfall, which received the first Longman-History Today Trustees' Award, The Mystery of Olga Chekhova and, most recently, the bestseller, D-Day. He lives in London.
Praise For The Second World War…
Praise for THE SECOND WORLD WAR:

"[Beevor's] book is the definitive history. This is World War II as Tolstoy would have described it - the great and the small."—Washington Post

"Antony Beevor's The Second World War is simply the ultimate Second World War history: it brings these vast events to life, from high strategy to suffering humanity, from the dictators to the ordinary soldier."—Simon Sebag Montefiore, Daily Telegraph

"A powerful narrative of World War II...a gripping account...Beevor's trademark...is the use of eyewitness testimony to deliver haunting particulars."—Richard Toye, New York Times Book Review

"Ever present is Beevor's skill in blending the strategizing of military chiefs with the ordinary soldiers they ordered about. . . Few will match his masterly overview, and no one will be unmoved by the ordeals and achievements that he so powerfully describes."—Globe and Mail

"The Second World War is a comprehensive capstone...a page-turner...[and] a kaleidoscope of individual experiences in a context of continuous choices...[Beevor's] command of a comprehensive spectrum of sources enables him to present the war from the perspective of its participants...Beevor brilliantly shows, at all levels, that WWII defies easy generalization."—Publishers Weekly

"Beevor has delivered an epic, brilliantly researched work on the defining event of the 20th century... his new research and his pitch-perfect narrative represent a truly astonishing display of art and craft... This book, which crowns Beevor's distinguished and bestselling career, is one of the nonfiction events of the decade and for this reader, is by far the best nonfiction of 2012 to date."—Stephen Frater, author of Hell Above Earth, Sarasota Herald-Tribune

"In this kaleidoscopic, one-volume account, a prize-winning historian shows his eye for telling anecdotes, his command of myriad facts, his sharply evocative prose and his skill at conjuring the big picture."—New Orleans Times-Picayune

"Anyone looking for a comprehensive military history of the Second World War that combines high strategy and politics but also takes full account of the war's human dimensions need look no further."—Winnipeg Free Press

"A general history of the war needs to embrace this variety of experience and capture the interplay between the momentous events unfolding on different continents and the high seas. Antony Beevor effectively meets this challenge. A former British army officer and author of admired works on Stalingrad and the Allied invasion of Normandy, Beevor is a gifted writer who knows how to keep a good story rolling. . . The brutality and courage of individual soldiers and civilians emerge in Beevor's powerful accounts. . . Beevor's book is a pleasure to read and an example of intelligent, lively historical writing at its best."—The Financial Times

"Every page is imbued with the sense that this man really knows what he is talking about ... Beevor's human and logistical capacities, in combination, inform the gripping accounts of some of the great set-piece confrontations that determined the outcome of the war."—Peter Clarke, The New Republic

"Antony Beevor makes the reader believe in the impossible: that he could write a history of magisterial authority about the greatest war of modern times and do justice to the global reach of that war...."—The Washington Times

"Readers who may instinctively recoil from another book about the worldwide turmoil of 1939-1945 would be unwise to ignore this one. . . Always at ease with the conduct of battle, Beevor displays his grasp of the German Army's professionalism and tactical skill at all levels of command, as well as Stalin's metamorphosis from paranoid political tyrant to master of history's most enormous battlefield. . . Once action is joined and false assumptions are exposed, Beevor is ruthless in dissecting them, whether featured in the fortunes of friend, foe or - despite their grit and resolve - in our own armed forces."—Michael Tillotson, The Times

"Brilliantly written...Beevor's account [is] incomparably vivid...[a] magnificently readable book."—The New York Review of Books

"You feel yourself being carried along on the narrative flow, channeled this way and that through the pools and rapids by Beevor's expert helmsmanship. As we have come to expect from the author, great events are leavened by telling vignettes and anecdotes."—Patrick Bishop, Standpoint

"An outstanding example of narrative history at its best, at once scholarly, enlightening, entertaining and thought-provoking."—The Tablet

"Everything is pared down to serve the relentless thrust of his storytelling. The result is a magnificent performance - true excitement from one page to the next delivered in faultless prose. . . Beevor offers superbly vivid accounts, often with tiny details that will surprise even those who gorge themselves on shot and ball histories."—Christopher Silvester, Daily Express

"The chapters on the Nazi-Soviet war find Beevor at the top of his game, in command of a huge range of sources, with a fine eye for place and detail, deftly manipulating incident and character, and making effective use of soldiers' diaries and letters to create a vast human tapestry of war. The prose is relaxed and contains a spring in every paragraph. He excels too at grand strategy - as a diplomatic historian, he is a match for AJP Taylor. The conferences at Casablanca, Tehran, Yalta and so on, which can have their longeurs, here sparkle with wit and insight, especially into the behaviour of Stalin. There are revelations too."—Ben Shephard, Observer

"This book is a perfect mixture of world history and human experience, unbiased and highly readable."—The Journal

"Brocaded with details of the great campaigns and thoughtful explanations of Hitler's murderous belligerency, The Second World War is an absorbing, unsparingly lucid work of military history...exceptionally powerful."—Ian Thomson, The Spectator

"Antony Beevor's remarkably informative and well-written book . . . Beevor's enormous strength is that he can sketch out complicated campaigns clearly. . . Antony Beevor has done splendid justice to this [the bombing of Germany] and to a very great deal else."—Norman Stone, Literary Review

"A war epic close to perfection."—Mail on Sunday

"The level of operational command, rather than grand strategy or the horrors of front line experience, shapes the magisterial narrative of the Second World War. Its military history is presented chronologically, with chapter titles which convey the simultaneity and interconnectedness of events in very different theatres. This is the place to begin if you need to get your knowledge of the war in order. Beevor is not afraid to quote the familiar when it is important or to let his favourite voices have their say but he also provides plenty of fresh insights for those who kid themselves that they know the story already."—Hew Strachan, Evening Standard

"This is history writ large. . . unexpected vignettes linger in the memory."—Daily Telegraph

"This memorable vignette is one of hundreds in Antony Beevor's utterly absorbing history of the Second World War. Beevor is justly celebrated for recounting the human realities of war. . . Beevor is committed to telling the truth about war, with all its painful contradictions. . . Beevor does not flinch: this is as comprehensive and objective account of the course of the war as we are likely to get, and the most humanly moving to date."—John Gray, New Statesman

"Judged against his own high standards of readability there is no doubt that The Second World War succeeds very well indeed. . . This is an immensely readable book, not least for the manner in which it blends together high strategy with the view from below. . . A masterful narrative history."—History Today

"If you only know the outlines of World War II, I would very heartily recommend it."—Ta-Nehisi Coates, The Atlantic

"His monumental and magisterial history of the Second World War . . . Beevor is excellent at catching the individual in the flood tide of events. . . Few can match his superbly controlled narrative."—Sunday Express

"With engaging prose and a remarkable ability to clarify and simplify massive and complex events, Beevor has once again demonstrated why he is a pre-eminent historian on the subject...the book is essential reading for anyone seeking to learn more about World War II and its consequences...[it] is always captivating and informative...It is hard to imagine how he will ever top this masterpiece of historical scholarship."—Army Magazine

"The narrative never flags and the myriad pieces of this intricate kaleidoscope are pieced together with exemplary skill...This is a splendid book, erudite, with admirable clarity of thought and expression."—Roger Moorhouse, The Independent on Sunday

Praise for D-DAY:

"Glorious, horrifying...D-Day is a vibrant work of history that honors the sacrifice of tens of thousands of men and women."—Time

"One of Beevor's strengths is his ability to describe the day-to-day experience of ordinary soldiers: the food, the weather, the smells, the humor, the fear. . . Perhaps this is what makes Beevor's D-Day such terrific reading. It details the shattering reality of D-Day and the months of savage fighting that followed instead of offering empty mythologizing. This is that rare hardcover worth your valuable attention and money."—USA Today

"The first impression on seeing D-Day on the bookshelf might be a question, "Why yet another book on D-Day?" The answer comes through in the detailed research and exhaustive treatment of individual stories as the Allies lodged ashore and then advanced on that fateful day and after, all the way to Paris...For anyone with any interest at all in World War II in Europe, especially the time from the landings through the liberation of Paris, D-Day is the book for you."—Vice-Admiral Robert F. Dunn, Washington Times

"This is a superb book and a model of the historian's craft. It stands as the best one-volume history of this decisive military engagement."—Christian Science Monitor

"His account of atrocities on both sides, of errors committed and of surpassing bravery makes for excellent -- though often blood-soaked -- reading. Beevor gets better with each book."—Kirkus Reviews

"Beevor's history is becoming World War II's definitive account.—Minneapolis Star-Tribune

"Beevor's book is a great look at how we think about "good" and "evil."—Ta-Nehisi Coates, The Atlantic
Coverage from NPR
or
Not Currently Available for Direct Purchase