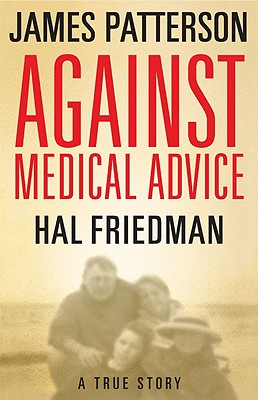 Against Medical Advice: One Family's Struggle with an Agonizing Medical Mystery (Hardcover)
One Family's Struggle with an Agonizing Medical Mystery
Little, Brown and Company, 9780316024754, 304pp.
Publication Date: October 20, 2008
* Individual store prices may vary.
or
Not Currently Available for Direct Purchase
Description
Cory Friedman woke up one morning when he was five years old with the uncontrollable urge to twitch his neck. From that day forward his life became a hell of irrepressible tics and involuntary utterances, and Cory embarked on an excruciating journey from specialist to specialist to discover the cause of his disease. Soon it became unclear what tics were symptoms of his disease and what were side effects of the countless combinations of drugs. The only certainty is that it kept getting worse. Simply put: Cory Friedman's life was a living hell.

AGAINST MEDICAL ADVICE is the true story of Cory and his family's decades-long battle for survival in the face of extraordinary difficulties and a maddening medical establishment. It is a heart-rending story of struggle and triumph with a climax as dramatic as any James Patterson thriller.
About the Author
James Patterson has had more "New York Times" bestsellers than any other writer, ever, according to "Guinness World Records." Since his first novel won the Edgar Award in 1977 James Patterson's books have sold more than 240 million copies. He is the author of the Alex Cross novels, the most popular detective series of the past twenty-five years, including "Kiss the Girls "and "Along Came a Spider." Mr. Patterson also writes the bestselling Women's Murder Club novels, set in San Francisco, and the top-selling New York detective series of all time, featuring Detective Michael Bennett. He writes full-time and lives in Florida with his family.
Praise For Against Medical Advice: One Family's Struggle with an Agonizing Medical Mystery…
"A work of naked truth, as disturbing as it is important-Against Medical Advice turns Tourette's Syndrome inside out and shows us what it is like to be trapped inside a brain that has a nightmarish mind of its own. This true story of Hal Friedman's son, Cory, is a gift of honesty, huge courage, and hope, and a reminder that against all medical advice and odds, human beings can prevail."

"Against Medical Advice is a true story that reads like the most riveting of pageturners. Read it and feel at gut-level what it's like to be a child whose life is almost destroyed by a hellish array of nightmare medical symptoms. Best of all, watch what happens when an entire family stands together against all odds, armed with strength, perseverance, and love for one another."

"In the tradition of The Curious Incident of the Dog in the Night-Time, Patterson and Friedman manage to get deep inside debilitating illness, and show us what life looks like from that perspective. Against Medical Advice is an amazing story of courage, fortitude and a family's love, simply told."

"Inspiring...a testament to the importance of family and the resilient nature of the human spirit."

"Against Medical Advice is both harrowing and heartbreaking, but is also a story of astonishing courage. This book stands as a testament to the amazing power of one family's unconditional love for each other."

"The frightening, frustrating life story of Mr. Friedman's son Cory, who for 13 years battled Tourette's syndrome, obsessive-compulsive disorder, and anxiety disorder."
-The Wall Street Journal

"Against Medical Advice touches on numerous harrowing experiences Cory rode out in school."
-USA Today

"A disturbing story but ultimately an inspiring one that affirms the power of families to overcome adversity."
-The Arizona Republic
Book Videos
Advertisement