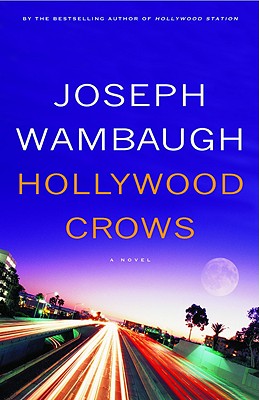 Hollywood Crows (Hardcover)
Little, Brown and Company, 9780316025287, 352pp.
Publication Date: March 25, 2008
* Individual store prices may vary.
or
Not Currently Available for Direct Purchase
Description
When LAPD cops Hollywood Nate and Bix Rumstead find themselves caught up with bombshell Margot Aziz, they think they're just having some fun. But in Hollywood, nothing is ever what it seems. To them, Margot is a harmless socialite, stuck in the middle of an ugly divorce from the nefarious nightclub-owner Ali Aziz. What Nate and Bix don't know is that Margot's no helpless victim: the femme fatale is setting them both up. But Ms. Aziz isn't the only one with a deadly plan.
In HOLLYWOOD CROWS, Wambaugh returns once again to the beat he knows best, taking readers on a tightly plotted and darkly funny ride-along through Los Angeles with a cast of flawed cops and eccentric lowlifes they won't soon forget.
Praise For Hollywood Crows…
"You won't want to put this one down, but you won't want to finish it too quickly, either. You will want to savor every beautifully choreographed scene and every hilarious exchange of dialogue. And you'll need a few moments to catch your breath between laughs. Joseph Wambaugh is a true master."
-Peter Robinson, author of Friend of the Devil and Aftermath

"Wambaugh turns his Mars lights on perhaps the most unlikely of subjects: a Hollywood patrol division called CRO (Community Relations Office) made up of safe, contented, non-street-working cops who focus on quality-of-life issues. But, naturally, in Wambaugh's telling, life in this coveted division-whose members are known as Crows-overruns with slapstick and social satire.... We... get classic Wambaugh cop stories, culled from actual cops, delivered in inimitable style. Wambaugh's acid take on post-Rodney King LAPD and the resultant consent decree and rule by bureaucrats is worth reading in itself. Another terrific Wambaugh ride-along."
-Booklist (starred)

"...as entertaining as ever...a book whose flaws are not only engaging but also redolent with promise...the author appears to have tired of picking up lifetime achievement awards and to have opened a new chapter in his own literary story...a tragic story of loss and one of redemption at the end of a darkly convoluted and murderous path -- and neither is expected."
-Los Angeles Times

"Hollywood Crows, which features many of the irresistible characters that we came to know and love in Hollywood Station, is a sure-fire hit, combining slapstick, sardonic wit and a large dollop of reality."
-Orlando Sentinel

"Readers who enjoyed Joseph Wambaugh's last novel, "Hollywood Station," will be pleased to read this sequel, although it can be enjoyed as a stand-alone novel.... This novel, like Wambaugh's previous 12, is largely character-driven...Wambaugh's abundant black humor and social satire will make you laugh -- and think."
-Pittsburgh Post-Gazette

"If there is a man alive who understands the heart, mind, and soul of police officers and has the ability to write about them with eloquent simplicity, horror, and humor, illustrating their terrible truths and wondrous joys, it is Joseph Wambaugh."
-New York Sun

There's more fun than grit to Wambaugh's latest, a follow-up to 2006's "Hollywood Station." Dark, antic humor fuels the plot and animates the characters. Much of Wambaugh's humor revels in the further absurdities of political correctness and the catch-22 aspects of the smothering bureaucracy growing around the scandal-plagued LAPD. Hollywood's zany characters - from the drug-addled panhandlers dressed in Mickey Mouse and Batman suits to the has-been stars, the world panorama of immigrants, the prostitutes and hustlers and the genuine crazies - provide the rest.
-Portsmouth Herald

"Joseph Wambaugh became the premier fiction writer about cops with The New Centurions, The Blue Knight, The Choirboys and a raft of other bestsellers. He is just as up to date on his LAPD characters in this amusing yet dramatic new novel.... What ensues is a classic seriocomic ride through all of Los Angeles' different environments, and a great read."
-Toronto Sun

"[An] exuberant novel.... Despite its moderate length, Hollywood Crows features a large cast of vivid characters.... Amid all the local color and slapstick, the author also depicts cops in trouble because of alcoholism or depression brought on by constant exposure to humanity at its worst. Wambaugh has been named a grand master by the Mystery Writers of America. Hollywood Crows is Exhibit A for the case that the award was well deserved."
-Washington Post

The book is peopled by cops who are both heroic and tragically human.... I loved it.
-Kansas City Star
Advertisement