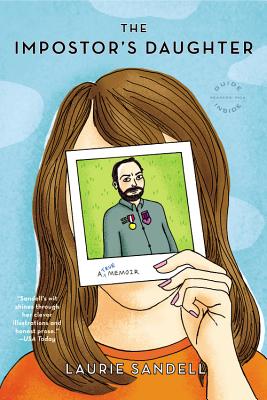 The Impostor's Daughter (Paperback)
A True Memoir
Back Bay Books, 9780316033060, 272pp.
Publication Date: July 12, 2010
* Individual store prices may vary.
Description
Laurie Sandell grew up in awe (and sometimes in terror) of her larger-than-life father, who told jaw-dropping tales of a privileged childhood in Buenos Aires, academic triumphs, heroism during Vietnam, friendships with Kissinger and the Pope. As a young woman, Laurie unconsciously mirrors her dad, trying on several outsized personalities (
Tokyo
stripper, lesbian seductress, Ambien addict). Later, she lucks into the perfect job--interviewing celebrities for a top women's magazine. Growing up with her extraordinary father has given Laurie a knack for relating to the stars. But while researching an article on her dad's life, she makes an astonishing discovery: he's not the man he says he is--not even close. Now, Laurie begins to puzzle together three decades of lies and the splintered person that resulted from them--herself.
About the Author
Laurie Sandell is a contributing editor at Glamour, where she writes cover stories, features, and personal essays. She has also written for Esquire, GQ, New York, and In Style, among others. In her twenties, she spent four years traveling around the world, having unsavory experiences she later justified as "material."
Praise For The Impostor's Daughter: A True Memoir…
"A stunner. From the opening page of Laurie Sandell's illustrated memoir, I was hooked. This coming of age tale for grownups may be a feast for the eyes, but it's also a sock in the gut-a wrenchingly funny tale of deception, addiction, and what it means to search for true love when you were raised on lies. You'll finish this page-turner in a single night-but the story will stay with you for much longer."—Carole Radziwill, author of What Remains

"Don't pick up The Impostor's Daughter if you have an urgent looming deadline. You'll start reading and then keep reading till you reach the last page, because this real-life detective story is so compelling, personal, and poignant that you'll end up ignoring your own life and responsibilities. Like I did."—A.J. Jacobs, author of The Know-It-All and The Year of Living Biblically

"The Impostor's Daughter is the mesmerizing account of Laurie Sandell's hunt for the truth about her father. Maybe he's a con man, possibly he's delusional, but to Laurie he's a larger-than-life figure-the most adventurous father in the world. Compellingly told and wonderfully drawn, The Impostor's Daughter is also the story of Laurie's personal struggle with pop-culture's zeitgeist trifecta: sex, celebrity, and substance abuse. It's a stirring debut."—Nathan Englander, author of The Ministry of Special Cases and For the Relief of Unbearable Urges

"The Impostor's Daughter is funny, frank, and absolutely engaging.  It's about truth and consequences and families and men and women and fame and, well, life itself. It's wonderful."—Susan Orlean, author of The Orchid Thief

"In this delightfully composed graphic novel, journalist Sandell illustrates a touchingly youthful story about a daughter's gushing love for her father. Using a winning mixture of straightforward comic-book illustrations with a first-person diarylike commentary, Sandell recounts the gradual realization from her young adulthood onward that her charming, larger-than-life Argentine father, bragging of war metals, degrees from prestigious universities and acquaintances with famous people, had lied egregiously to his family about his past and accomplishments....  Sandell's method of storytelling is marvelously unique and will surely spark imitators."—Publishers Weekly

"Sophisticated and spellbinding, Laurie Sandell's graphic memoir, The Impostor's Daughter, is rife with dramatic family dynamics, secrets, and subterfuges centered around her mysterious, mercurial, Argentine-American father.  By uncovering the buried truths of his past life, she claims her own coming-of-age story."—Elle

"Celebrity journalist Laurie Sandell's absorbing graphic memoir, The Impostor's Daughter, delves into her father's shady past....  This smart, candid book with its vivid illustrations is a must-read."—InStyle

"[An] eloquent graphic novel."—Time

"Sandell's wit shines through her clever illustrations and honest prose."—USA Today
or
Not Currently Available for Direct Purchase