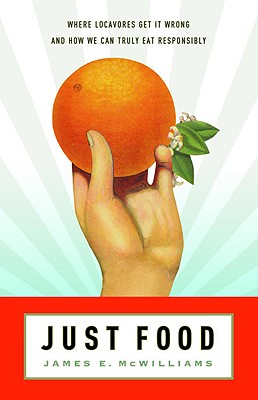 Just Food: Where Locavores Get It Wrong and How We Can Truly Eat Responsibly (Hardcover)
Where Locavores Get It Wrong and How We Can Truly Eat Responsibly
Little, Brown and Company, 9780316033749, 272pp.
Publication Date: August 1, 2009
* Individual store prices may vary.
or
Not Currently Available for Direct Purchase
Description
We suffer today from food anxiety, bombarded as we are with confusing messages about how to eat an ethical diet. Should we eat locally? Is organic really better for the environment? Can genetically modified foods be good for you?

JUST FOOD does for fresh food what Fast Food Nation (Houghton Mifflin, 2001) did for fast food, challenging conventional views, and cutting through layers of myth and misinformation. For instance, an imported tomato is more energy-efficient than a local greenhouse-grown tomato. And farm-raised freshwater fish may soon be the most sustainable source of protein.

Informative and surprising, JUST FOOD tells us how to decide what to eat, and how our choices can help save the planet and feed the world.
About the Author
James McWilliams is an associate professor of history at Texas State University. He was a fellow at Yale University's Agrarian Studies Program, and is the author of three previous books. He has written for the New York Times, Washington Post, and Los Angeles Times. He lives in Austin, Texas.
Praise For Just Food: Where Locavores Get It Wrong and How We Can Truly Eat Responsibly…
"McWilliams has guts. Some of the changes he champions will draw fire from all quarters...but he also presents ideas that may appeal to both the greenerati and capitalistas...McWilliams forgoes sloganeering in favor of measured logic, but he doesn't downplay the notion that a worldwide food crisis is imminent and that we had better fix things. Soon."
-Texas Monthly

"McWilliams presents some appealing alternatives to the views of both the agrarian romantics on the left and the agribusiness capitalists on the right. The author advocates a judicious use of genetically engineered seeds and food products, believes we must reduce our passion for land-animal protein...and urges more attention to the nascent science of aquaponics...He concludes that the best food-production model may be "a broad pattern of regionally integrated, technologically advanced, middle-sized farms." Rich in research, provocative in conception and nettlesome to both the right and the left."
-Kirkus Reviews

"Enlightening....James E. McWilliams is stirring up trouble, the kind that gets noticed-and the kind that makes us all scratch our heads and think harder....Just Food ultimately offers a brave, solid argument that anyone who cares about their food-and everyone should care about their food-should consider."
-Atlanta Journal-Constitution

PRAISE FOR A REVOLUTION IN EATING:

"Fascinating....Anyone curious about the cultural history of that meatloaf on the dinner plate will gobble it up."
-Entertainment Weekly

"The lucid style and jaunty tone....make this accessible to all."
-Publishers Weekly

"McWilliams has penned an illuminating account of the evolution of foodways in the colonial Americas."
-Washington Post Book World

"McWilliams's examination of the culinary history of Colonial America is more than a....gastronomic tour....A lively and informative read."
-The New Yorker
Advertisement