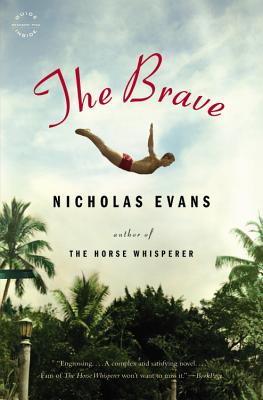 The Brave (Paperback)
A Novel
Back Bay Books, 9780316033770, 384pp.
Publication Date: November 9, 2011
* Individual store prices may vary.
Description
In the 1960s, Tommy Bedford has the magnificent luck of escaping boarding school and moving to Hollywood to live with his older sister, rising ingénue Diane Reed, and her beau, suave cowboy actor Ray Montane. For a time, life is full and glamorous. But Hollywood has a darker side, and one day a shocking and deadly confrontation forces Diane and Tommy to flee.

Decades later, Tom Bedford has retreated into the isolated wilds of Montana. His biggest secret has corroded his life and ruined his marriage. Only when Danny, Tom's estranged son, is charged with murder while serving in Iraq is Tom finally forced to reckon with his demons. As he fights to save the son he has let slip away, Tom must confront the violence in his own past-and learn the true meaning of bravery.
About the Author
Nicholas Evans studied law at Oxford University after serving in Africa with Voluntary Service Overseas. He then worked as a newspaper reporter, TV producer and screenwriter before writing four bestselling novels. His first book, The Horse Whisperer was made into a movie directed by Robert Redford. He lives in Devon with his wife, singer/songwriter Charlotte Gordon Cumming. Her album of songs, inspired by The Brave, can be heard at www.thebravesongs.com.
Praise For The Brave: A Novel…
"Alternating past and present, Evans expertly juggles his twin narratives until they come shatteringly together as father and son yield to the combined weight of the secrets they hide. Combining elements of the prep school drama, the Hollywood novel, the western, and the war story, Evans (The Horse Whisperer) skillfully mixes genres to create a real crowd-pleaser."—Publishers Weekly

"Ever the master of intense and complex relationships, Evans has crafted a time-traveling plot that admirably juggles issues of identity and fidelity to one's self and one's principles."—Carol Haggas, Booklist

"In his first novel in five years Evans displays a sure hand at drawing characters and their motivations and settings as diverse as a gloomy boarding school, glamorous Hollywood, and the wide-open spaces of the West. This should appeal to all lovers of good storytelling."—Dan Forrest, Library Journal

"The Brave is an engrossing tale that ... suggest[s] that, as Faulkner said, "The past isn't dead. It isn't even past." Fans of The Horse Whisperer won't want to miss this complex and satisfying story. For readers who have not had the pleasure of reading Evans, but are looking to get lost in a big novel with larger-than-life characters, The Brave is sure to fit the bill."—Kelly Blewett, BookPage