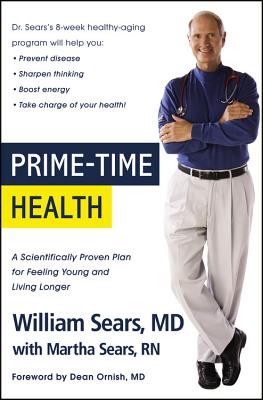 Prime-Time Health (Paperback)
A Scientifically Proven Plan for Feeling Young and Living Longer
Little, Brown Spark, 9780316035392, 464pp.
Publication Date: October 29, 2010
Other Editions of This Title:
Digital Audiobook (10/8/2018)
* Individual store prices may vary.
Description
Twelve years ago, renowned physician and author Dr. William Sears was diagnosed with cancer. He, like so many people, wanted -- and needed -- to take control of his health. Dr. Sears created a comprehensive, science based, head-to-toe program for living a long, fit life -- and it worked.

Now at the peak of health, Dr. Sears shares his program in Prime-Time Health. This engaging and deeply informative book will motivate readers to make crucial behavior and lifestyle changes. Dr. Sears explores how to keep each body system healthy and delay those usual age-related changes. Written in Dr. Sears's wise, accessible, and entertaining voice, Prime-Time Health is a practical program to help you live your best life possible-pain-free, disease-free, stress-free, and medication-free.
About the Author
Martha Sears, RN and William Sears, MD, are the pediatrics experts to whom American parents turn for advice and information on all aspects of pregnancy, birth, childcare, and family nutrition. Martha Sears is a registered nurse, certified childbirth educator, and breastfeeding consultant.

Dr. Sears was trained at Harvard Medical School's Children's Hospital and Toronto's Hospital for Sick Children, the largest children's hospital in the world. He has practiced pediatrics for nearly 50 years. Together, the Searses have authored more than 40 pediatrics books.
Praise For Prime-Time Health: A Scientifically Proven Plan for Feeling Young and Living Longer…
"Amusing, encouraging, and easy-to-remember prescriptive mnemonics and slogans enliven a lucid, personal and professional narrative. Sears provides what similar books often lack-an honest and trusted voice plus the latest medical science in a comprehensive, accessible program that is hard to resist."

—Publishers Weekly



"A distillation of common-sense advice mixed with more surprising, age-specific mandates all designed to promote longevity and a healthy later life."—Vogue

"A very important and exciting book. Its strength is in its simplicity. I recommend it without any reservation whatsoever."—Stephen T. Sinatra, MD, FACC, CNS, author of The Sinatra Solution

"Chock full of things you can actually do to improve your health. Dr. Sears's new book gives so many insights and is presented in an easy and accessible way."—Mark Liponis, MD, coauthor of Ultraprevention and author of Ultralongevity

"Prime-Time Health is a classic. It is not just a health book; it is a compelling and captivating portal to success, happiness, and the hope that life is wondrous and limitless when you are healthy and fit."—Vincent Fortanasce, MD, author of The Anti-Alzheimer Prescription

"In his usual science-made-simple style, Dr. Sears shows how your body can make its own internal medicines to act like a fountain of youth. I enjoyed reading Prime-Time Health from cover to cover. I recommend you read it, and then do it."—Dr. Louis J. Ignarro, Nobel Laureate in Medicine and author of No More Heart Disease

"The book breaks everything down into quick, manageable bites that are easy to swallow and follow, and it's full of good, hearty advice."
—Washington Examiner

"Amusing, encouraging, and easy-to-remember prescriptive mnemonics and slogans enliven a lucid, personal and professional narrative. Sears provides what similar books often lack-an honest and trusted voice plus the latest medical science in a comprehensive, accessible program that is hard to resist."—Publishers Weekly