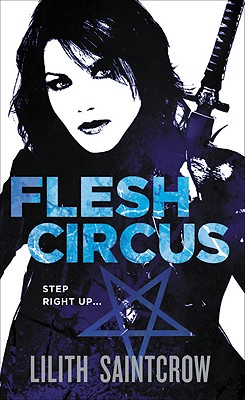 Flesh Circus (Jill Kismet #4) (Mass Market)
Orbit, 9780316035453, 336pp.
Publication Date: December 1, 2009
Other Editions of This Title:
Compact Disc (5/1/2013)
MP3 CD (8/25/2015)
MP3 CD (5/1/2013)
* Individual store prices may vary.
Description
The Cirque de Charnu has come.
They will clean out the demons and the suicides, and move on. As long as they stay within the rules, Jill Kismet can't deny them entry. But she can watch--and if they step out of line, she'll send them packing.
When Cirque performers start dying grotesquely, Kismet has to find out why, or the fragile truce won't hold and her entire city will become a carnival of horror. She also has to play the resident hellbreed power against the Cirque to keep them in line, and find out why ordinary people are needing exorcisms. And then there's the murdered voodoo practitioners, and the zombies.
An ancient vengeance is about to be enacted. The Cirque is about to explode. And Jill Kismet is about to find out some games are played for keeps...
Jill Kismet Novels
Night Shift
Hunter's Prayer
Redemption Alley
Flesh Circus
Heaven's Spite
Angel Town

Jill Kismet (omnibus)

For more from Lilith Saintcrow, check out:
Gallow and Ragged
Trailer Park Fae

Bannon and Clare
The Iron Wyrm Affair
The Red Plague Affair
The Ripper Affair
The Damnation Affair (e-only)

Dante Valentine Novels
Working for the Devil
Dead Man Rising
Devil's Right Hand
Saint City Sinners
To Hell and Back

Dante Valentine (omnibus)

A Romance of Arquitaine Novels
The Hedgewitch Queen
The Bandit King
Blood Call (coming August 2015)
About the Author
Lilith Saintcrow was born in New Mexico, bounced around the world as an Air Force brat, and fell in love with writing when she was ten years old. She currently lives in Vancouver, WA.

or
Not Currently Available for Direct Purchase