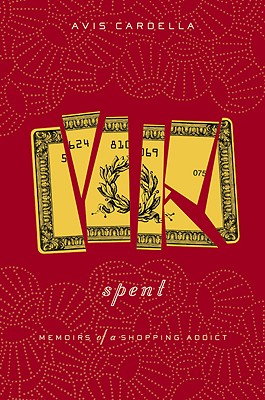 Spent
Memoirs of a Shopping Addict
Hardcover

* Individual store prices may vary.
Description
As a child, Avis Cardella devoured the glamorous images in her mother's fashion magazines. She grew up to be one of the people in them, living a life that seemed to be filled with labels and luxury. But shopping had become a dangerous addiction. She forwent food for Prada. Credit card debt blossomed like the ever-increasing pile of unworn shoes and clothing in the back of her closet. She defined herself by the things she owned and also lost herself in the mad hunt for the perfect pair of pants or purse that might make her feel whole.

Spent is Avis Cardella's timely, deeply personal, and shockingly dramatic exploration of our cultural need to spend, and of what happens when someone is consumed by the desire to consume.
Praise For Spent: Memoirs of a Shopping Addict…
"These are the confessions of a
real
shopaholic, riveting to read and painfully self-aware. Avis Cardella speaks truth to power--the power of delusional thinking that is peculiarly female in nature. As in: Never mind that I'm already 20 grand in Visa debt, I desperately need that Prada suit to make my life-to make ME-perfect. If this sounds scarily familiar, what you need even more desperately is a copy of
Spent
, right now."—
Susan Squire
,
author of I Don't: A Contrarian History of Marriage
"Cardella, now in her late 40s, has an elegant, serious voice in
Spent
; a bauble-decked shopaholic straight out of a frothy chick lit novel, she's not. Clothes...are described earnestly, and she casts the fashion industry...in an occasionally deeply unflattering light. But
Spent
is less an indictment of an industry as a whole and more an examination of Cardella's own vulnerability to its particular pitfalls: insecurities placated by dressing well and buying luxe, as well as an exhausting run with a fast crowd."—
Sarah Haight
,
Women's Wear Daily
"In this intimate and revealing portrait, Avis Cardella unapologetically invites us to bear witness to the devastating effect that her mother's sudden death had on her life, and the ensuing serious shopping addiction that temporarily took away her fragility and numbness and bolstered her shaky sense of self. It came with a very high price, however.
Spent
is a cautionary tale for the millions of women who try to build a sense of themselves based on fashion or images presented in the media--and don't realize that 'in the process of trying to create a new self, another self that is more central may be annihilated'."—
April Lane Benson, Ph.D., author of To Buy or Not to Buy: Why We Overshop and How to Stop
"For anyone who has felt the thrill of snapping up a bargain or buying something extravagant, this glimpse of the far side of shopping's emotional kicks can be fascinating."
—
Malcolm Ritter
,
San Francisco Chronicle
"bracing... Avis Cardella's "Spent" relates how the author's "compulsive shopping habit" pushed her to the brink of financial and existential bankruptcy. This riveting, painfully candid memoir exposes the dark side of the belief that we are what we wear."
—
Caroline Weber
,
The New York Times Sunday Book Review
Little, Brown and Company, 9780316035606, 272pp.
Publication Date: May 14, 2010
About the Author
Avis Cardella is a former model and fashion journalist. She surrently works as a freelance writer specializing in the areas of art, photography, fashion and lifestyle. Her work has appeared in a variety of publications including British Vogue, Surface, WWD, the New York Times Magazine, and Marie Claire, among others. She lives in Paris.