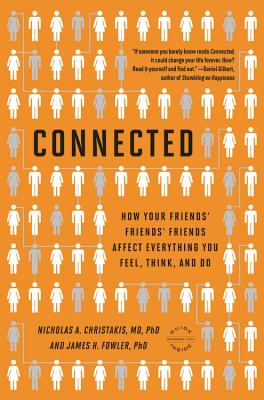 Connected
The Surprising Power of Our Social Networks and How They Shape Our Lives -- How Your Friends' Friends' Friends Affect Everything You Feel, Think, and Do
Paperback

* Individual store prices may vary.
Other Editions of This Title:
Digital Audiobook (9/28/2009)
Hardcover (9/28/2009)
Description
Celebrated scientists Nicholas Christakis and James Fowler explain the amazing power of social networks and our profound influence on one another's lives.

Your colleague's husband's sister can make you fat, even if you don't know her. A happy neighbor has more impact on your happiness than a happy spouse. These startling revelations of how much we truly influence one another are revealed in the studies of Dr. Christakis and Fowler, which have repeatedly made front-page news nationwide.

In Connected, the authors explain why emotions are contagious, how health behaviors spread, why the rich get richer, even how we find and choose our partners. Intriguing and entertaining, Connected overturns the notion of the individual and provides a revolutionary paradigm-that social networks influence our ideas, emotions, health, relationships, behavior, politics, and much more. It will change the way we think about every aspect of our lives.
Praise For Connected: The Surprising Power of Our Social Networks and How They Shape Our Lives -- How Your Friends' Friends' Friends Affect Everything You Feel, Think, and Do…
"Christakis and Fowler have written the book on the exciting new science of social networks. CONNECTED could change your life forever. How? Read it yourself and find out."—Daniel Gilbert, bestselling author of Stumbling on Happiness

"In a category of works of brilliant originality that can stimulate and enlighten and can sometimes even change the way we understand the world."—The New York Times

"Groundbreaking."—Kirkus

"An entertaining guide to the mechanics and importance of human networking."—Publishers Weekly

"Engaging and insightful...sure-to-be a blockbuster...Connected succeeds in connecting with its audience."—SeedMagazine.com

"Illuminating...The authors excel at drawing out the devil in the detail. Connected has profound implications."—New Scientist

"Intriguing."—SmartMoney.com

"Connected explores the startling intricacies of social networks."—O, The Oprah Magazine

"Could well be one of the most important works of the decade. Full of fascinating stories and examples. A must read."—Ed Diener, Joseph Smiley Distinguished Professor of Psychology University of Illinois and author of Happiness

"In a social world exploding with new ways to interact, Connected is a user's guide for ourselves in the 21st century."—Dan Ariely, James B. Duke Professor of Behavioral Economics and author of Predictably Irrational

"A God's-eye view of social relationships that may make you dizzy. Every business leader, teacher, and parent should see their life from this vantage."—Chip Heath, coauthor Made to Stick

"A lively, well-written account of social networks and their power to shape our lives. The world becomes smaller and more meaningful after reading this engaging book."—Sudhir Venkatesh, author of Gang Leader for a Day

"The possibility that we all participate in one mind challenges religion, philosophy, and the meaning of life itself."—Deepak Chopra, San Francisco Chronicle

"[In a category of] works of brilliant originality that can stimulate and enlighten and can sometimes even change the way we understand the world."—The New York Times

"A clever, cogent, and enjoyable look at the latest thinking about humans in community. It provides a swath of important research in one place for readers and makes it a stimulating read."

—Michael Fitzgerald, Boston Globe

"An intellectual but accessible approach. The authors make a persuasive case for the power of social networks to affect everything and everyone."—Business Week
Little, Brown Spark, 9780316036139, 368pp.
Publication Date: January 12, 2011
About the Author
Nicholas A. Christakis is a physician and sociologist who explores the ancient origins and modern implications of human nature. He directs the Human Nature Lab at Yale University, where he is the Sterling Professor of Social and Natural Science, in the Departments of Sociology, Medicine, Ecology and Evolutionary Biology, Statistics and Data Science, and Biomedical Engineering. He is the Co-Director of the Yale Institute for Network Science and the co-author of Connected.
or
Not Currently Available for Direct Purchase