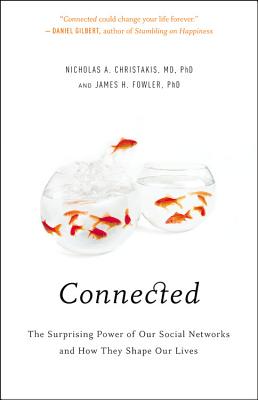 Connected (Hardcover)
The Surprising Power of Our Social Networks and How They Shape Our Lives
Little Brown and Company, 9780316036146, 338pp.
Publication Date: September 1, 2009
* Individual store prices may vary.
Description
Your colleague's husband's sister can make you fat, even if you don't know her. A happy neighbor has more impact on your happiness than a happy spouse. These startling revelations of how much we truly influence one another are revealed in the studies of Drs. Christakis and Fowler, which have repeatedly made front-page news nationwide. In CONNECTED, the authors explain why emotions are contagious, how health behaviors spread, why the rich get richer, even how we find and choose our partners. Intriguing and entertaining, CONNECTED overturns the notion of the individual and provides a revolutionary paradigm-that social networks influence our ideas, emotions, health, relationships, behavior, politics, and much more. It will change the way we think about every aspect of our lives.

About the Author
Nicholas A. Christakis, MD, PhD, is a professor at Harvard University with joint appointments in the Departments of Health Care Policy, Sociology, and Medicine, and in 2009 was named one of Time magazine's 100 most influential people in the world. James H. Fowler, PhD, is an associate professor at the University of California, San Diego, in the Department of Political Science and The Center for Wireless and Population Health Systems, and was named one of the "most inspiring scientists" by the San Diego Science Festival. Christakis and Fowler's research has appeared on The Oprah Winfrey Show, Good Morning America, Today, and The Colbert Report, and on the front pages of the New York Times, Washington Post, and USA Today.
Praise For Connected: The Surprising Power of Our Social Networks and How They Shape Our Lives…
"Christakis and Fowler have written the book on the exciting new science of social networks. With passion and precision, these two internationally renowned scientists expose the invisible webs that connect each of us to the other, and in so doing cast our lives here together in an astonishing new light. We think we are individuals who control our own fates, but as Christakis and Fowler demonstrate, we are merely cells in the nervous system of a much greater beast. If someone you barely know reads CONNECTED, it could change your life forever. How? Read it yourself and find out."-- "The book has all sorts of interesting information about how our friends influence our lives, for better and for worse."
-Daniel Gilbert, bestselling author of Stumbling on Happiness

"[In a category of] works of brilliant originality that can stimulate and enlighten and can sometimes even change the way we understand the world."
-The New York Times

"Groundbreaking...."
-Kirkus

"An entertaining guide to the mechanics and importance of human networking."
-Publishers Weekly

"Engaging and insightful...sure-to-be a blockbuster...Connected succeeds in connecting with its audience."
-SeedMagazine.com

"Illuminating...The authors excel at drawing out the devil in the detail. [Connected] has profound implications."
-New Scientist

"Intriguing."
-SmartMoney.com

"Connected explores the startling intricacies of social networks."
-O, The Oprah Magazine

"The book has all sorts of interesting information about how our friends influence our lives, for better and for worse."
-MarieClaire.com

"Connected argues convincingly that it's not enough to understand how individuals behave. The book details examples of how individual behaviors affect other members of a social network."-ScienceNews.com

"This wonderful book by Christakis and Fowler could well be one of the most important works of the decade. In a clear and engaging way, the authors apply their creative and provocative findings on social networks to understanding not only our social relationships but also the forces that shape our world. Full of fascinating stories and examples, this book is essential in understanding our very nature. A must read."
-Ed Diener, Joseph Smiley Distinguished Professor of Psychology University of Illinois and author of Happiness

"Fascinating... the dozens of interconnected stories of research findings by Chriastkis and Fowler and others leave me eager to learn about the next wave of research in this area."
-Andrew Gelman, author of Red State, Blue State

"What makes us human -- for good and bad -- is our social nature. Nowhere is this complex, wonderful, and sometimes dark part of us more clearly revealed than in Connected. In a social world exploding with new ways to interact, Connected is a user's guide for ourselves in the 21st century."
-Dan Ariely, James B. Duke Professor of Behavioral Economics and author of Predictably Irrational

"A God's-eye view of social relationships that may make you dizzy. Every business leader, teacher, and parent should see their life from this vantage."
-Chip Heath, author Made to Stick: Why Some Ideas Survive and Others Die

"An old adage tells us, 'You can't chose your family.' After reading Connected, you will find that you can't choose many things in your life. Others choose them for you! Christakis and Fowler take a fresh look at an old idea: that who we know matters. Connected is a lively, well-written account of social networks and their power to shape our lives. Complicated ideas become easy to understand and the mysteries of science unfold in front of your eyes. The world becomes smaller and more meaningful after reading this engaging book."
-Sudhir Venkatesh, author of Gang Leader for a Day

"From health and happiness to fads and financial markets, Christakis and Fowler take us on a dazzling tour of the world of social networks. And in showing how these networks matter in our individual lives, the authors also make the deeper point that "network thinking" is the key to understanding how all our lives fit together."-Duncan Watts, author of Six Degrees
Book Videos
Coverage from NPR