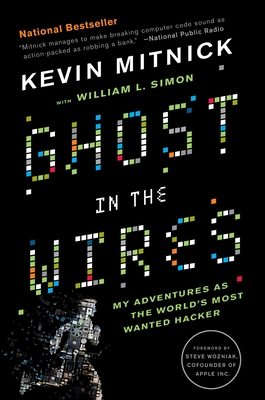 Ghost in the Wires: My Adventures as the World's Most Wanted Hacker (Paperback)
My Adventures as the World's Most Wanted Hacker
Back Bay Books, 9780316037723, 412pp.
Publication Date: April 24, 2012
Description
Kevin Mitnick was the most elusive computer break-in artist in history. He accessed computers and networks at the world's biggest companies--and however fast the authorities were, Mitnick was faster, sprinting through phone switches, computer systems, and cellular networks. He spent years skipping through cyberspace, always three steps ahead and labeled unstoppable. But for Kevin, hacking wasn't just about technological feats-it was an old fashioned confidence game that required guile and deception to trick the unwitting out of valuable information. Driven by a powerful urge to accomplish the impossible, Mitnick bypassed security systems and blazed into major organizations including Motorola, Sun Microsystems, and Pacific Bell. But as the FBI's net began to tighten, Kevin went on the run, engaging in an increasingly sophisticated cat and mouse game that led through false identities, a host of cities, plenty of close shaves, and an ultimate showdown with the Feds, who would stop at nothing to bring him down. Ghost in the Wires is a thrilling true story of intrigue, suspense, and unbelievable escape, and a portrait of a visionary whose creativity, skills, and persistence forced the authorities to rethink the way they pursued him, inspiring ripples that brought permanent changes in the way people and companies protect their most sensitive information.
About the Author
Kevin Mitnick, the world's most famous (former) hacker, is now a security consultant. He has been the subject of countless news and magazine articles and has appeared on numerous television and radio programs, offering expert commentary on information security, and he has testified before the United States Senate and written for Harvard Business Review. Mitnick is the author, with William L. Simon, of the bestselling books The Art of Deception and The Art of Intrusion. He lives in Las Vegas, Nevada.
Praise For Ghost in the Wires: My Adventures as the World's Most Wanted Hacker…
"Considering the fact that Windows 95 hadn't even been released when federal agents finally caught up with the computer hacker Kevin Mitnick, one might assume his new memoir would be full of stale old tech-and-­techniques that no one in 2011 could possibly care about. But as Mitnick makes clear here, don't jump to conclusions.... Ghost in the Wires reads like a contemporary über-geeky thriller....For those interested in computer history, "Ghost in the Wires" is a nostalgia trip to the quaint old days before hacking (and hackers) turned so malicious and financially motivated."
-New York Times Book Review

"Intriguing, insightful and extremely educational into the mind of one who truly mastered the art of social engineering with the use of a computer and modern day technologies. I strongly believe that one can learn a great deal about protecting themselves once they understand how another one perpetrates the crime."

"Reads like those of Frank Abagnale Jr. and Steven Jay Russell. But Mitnick's has a high-tech twist."
-Booklist

"It's the piquant human element that really animates this rollicking memoir of high-tech skullduggery....Mitnick's hacking narratives are lucid to neophytes and catnip to people who love code, but the book's heart is his 'social engineering' - his preternatural ability to schmooze and manipulate.....[a] nonstop caper."
-Publisher's Weekly
Advertisement