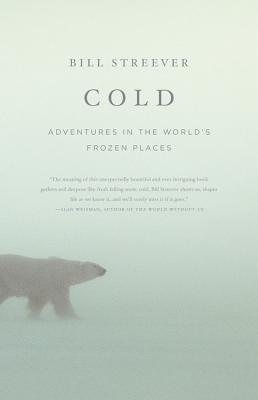 Cold: Adventures in the World's Frozen Places (Hardcover)
Adventures in the World's Frozen Places
Little, Brown and Company, 9780316042918, 304pp.
Publication Date: July 1, 2009
* Individual store prices may vary.
or
Not Currently Available for Direct Purchase
Description
From avalanches to glaciers, from seals to snowflakes, and from Shackleton's expedition to "The Year Without Summer," Bill Streever journeys through history, myth, geography, and ecology in a year-long search for cold--real, icy, 40-below cold. In July he finds it while taking a dip in a 35-degree Arctic swimming hole; in September while excavating our planet's ancient and not so ancient ice ages; and in October while exploring hibernation habits in animals, from humans to wood frogs to bears.

A scientist whose passion for cold runs red hot, Streever is a wondrous guide: he conjures woolly mammoth carcasses and the ice-age Clovis tribe from melting glaciers, and he evokes blizzards so wild readers may freeze--limb by vicarious limb.
About the Author
Bill Streever chairs the North Slope Science Initiative's Science Technical Advisory Panel in Alaska and serves on many related committees, including a climate change advisory panel. A biologist, he lives with his son in Anchorage, where he hikes, bikes, camps, scuba dives, and cross country skies, as often as the weather allows.
Praise For Cold: Adventures in the World's Frozen Places…
"Streever's prose does what E. L. Doctorow said good writing is supposed to do, which is to evoke sensation in the reader ... This book is chilling in too many ways to count."

"The meaning of this unexpectedly beautiful and ever-intriguing book gathers and deepens like fresh falling snow: Cold, Bill Streever shows us, shapes life as we know it, and we'll sorely miss it if it goes."

"Cold is a love song to science and scientists, to Earth and everything that lives on and flies over and tunnels under it. It's impossible to read the book and not fully realize that our planet must be protected."

"[Streever] demonstrates an amazing zeal for collecting cold facts...his voice is so engaging and his writing so crisp...Streever has style and curiosity to spare."

"Briskly refreshing...if your own soul's compass points north, you'll enjoy snuggling down with Cold."
Coverage from NPR
Advertisement