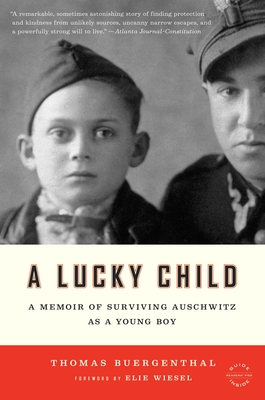 A Lucky Child: A Memoir of Surviving Auschwitz as a Young Boy (Paperback)
A Memoir of Surviving Auschwitz as a Young Boy
Back Bay Books, 9780316043397, 230pp.
Publication Date: September 16, 2010
* Individual store prices may vary.
or
Not Currently Available for Direct Purchase
Description
Thomas Buergenthal, now a Judge in the International Court of Justice in The Hague, tells his astonishing experiences as a young boy in his memoir A LUCKY CHILD. He arrived at Auschwitz at age 10 after surviving two ghettos and a labor camp. Separated first from his mother and then his father, Buergenthal managed by his wits and some remarkable strokes of luck to survive on his own. Almost two years after his liberation, Buergenthal was miraculously reunited with his mother and in 1951 arrived in the U.S. to start a new life.
Now dedicated to helping those subjected to tyranny throughout the world, Buergenthal writes his story with a simple clarity that highlights the stark details of unimaginable hardship. A LUCKY CHILD is a book that demands to be read by all.
About the Author
Thomas Buergenthal served for more than ten years as the American judge on the International Court of Justice in The Hague before returning to the United States in September 2010. He is a former President of the Inter-American Court of Human Rights and former member of the UN Human Rights Committee, and was the 2014 recipient of the United States Holocaust Memorial Museum's Elie Wiesel Award.
Praise For A Lucky Child: A Memoir of Surviving Auschwitz as a Young Boy…
"In the plainest words and the steadiest tones, Thomas Buergenthal delivers to us the child he once was. History and memory fail to ebb; rather, they accelerate and proliferate, and Buergenthal's voice is now more thunderous than ever. A work of visionary compassion."
-Cynthia Ozick, author of Heir to the Glimmering World

"An extraordinary story, simply and beautifully told. Heartbreaking and thrilling, it examines what it means to be human, in every good and awful sense. Thomas Buergenthal remembers and renders the small mysteries and grand passions of childhood, even a childhood lived under the most horrific circumstances."
-Elizabeth McCracken, author of An Exact Replica of a Figment of My Imagination

"The unsentimental tone of Buergenthal's writing magnifies his deliberate decision not to make melodrama out of a story that is plenty dramatic enough. Like Primo Levi and Anne Frank, Buergenthal can only tell the story of one life, but through that life we are led to consider and honor all the lives of those who weren't so lucky."
-Kate Braestrup, author of Here If You Need Me

"Reminiscent of Anne Frank and Elie Wiesel...Buergenthal [speaks] most eloquently for the millions of Holocaust victims who cannot."
-The Oklahoman

"An incredible tale."
-The Free Lance-Star

"Buergenthal's authentic, moving tale reveals that his lifelong commitment to human rights sprang from the ashes of Auschwitz."
-Publishers Weekly

"Powerful....The author's story is astonishing and moving, and his capacity for forgiveness is remarkably heartening. An important new voice joins the chorus of survivors."
-Kirkus Reviews

"A remarkable, sometimes astonishing story of finding protection and kindness from unlikely sources, uncanny narrow escapes and a powerfully strong will to live."
-The Atlanta Journal-Constitution

"You think you've heard it all....But this one is different. The clear, nonhectoring prose makes Buergenthal's personal story-and the enduring ethical questions it prompts-the stuff of a fast, gripping read."
-Booklist

"A Lucky Child does not wallow in the horrors nor does it shirk the darkest events. It is a clear-headed account of Buergenthal's experiences and how they determined his life."
-The Sydney Morning Herald
Advertisement