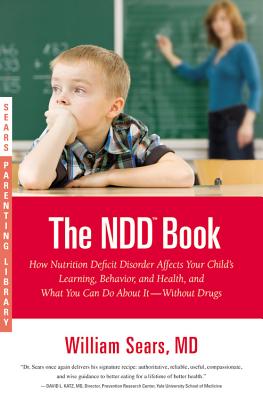 The N.D.D. Book (Paperback)
How Nutrition Deficit Disorder Affects Your Child's Learning, Behavior, and Health, and What You Can Do About It--Without Drugs
Little, Brown Spark, 9780316043441, 224pp.
Publication Date: April 29, 2009
* Individual store prices may vary.
Description
The Sears Parenting Library's latest addition is an exploration of how nutrition affects the brains and behavior of youngsters. N.D.D., or Nutrition Deficit Disorder, as coined by Dr. Bill Sears, is based on the idea that if "you put junk food into a child's brain, you get back junk behavior and learning."

Dr. Sears will explore the latest scientific research on the effects of nutrition on the brain. He will present case studies of his own patients who were diagnosed as "N.D.D." and showed major improvement in learning and behavior with diet change. Instead of simply medicating his patients, Dr. Sears looked for a better solution -- in fact, with better nutrition, many of his patients were able to greatly reduce or even stop their medication. The book will also provide parents with a prescription, shopping and meal tips, and recipes to make implementing a healthier lifestyle that much easier.

The N.D.D. Book will be a must-have for all parents who want to help their children become healthier, happier, and better prepared to learn.
About the Author
Martha Sears, RN and William Sears, MD, are the pediatrics experts to whom American parents turn for advice and information on all aspects of pregnancy, birth, childcare, and family nutrition. Martha Sears is a registered nurse, certified childbirth educator, and breastfeeding consultant.

Dr. Sears was trained at Harvard Medical School's Children's Hospital and Toronto's Hospital for Sick Children, the largest children's hospital in the world. He has practiced pediatrics for nearly 50 years. Together, the Searses have authored more than 40 pediatrics books.
Praise For The N.D.D. Book: How Nutrition Deficit Disorder Affects Your Child's Learning, Behavior, and Health, and What You Can Do About It--Without Drugs…
"Filled with practical tips for parents, The NDD Book could help stem the rapid rise of behavioral medications in children while improving the functioning of their developing bodies and brains, ultimately resulting in smarter, happier, and healthier kids. Dr. Sears's dietary and nutrient recommendations offer real alternatives for parents looking for a non-drug approach for the 'D' disorders."-Kenneth A. Bock, MD, author of Healing the New Childhood Epidemics: Autism, ADHD, Asthma, and Allergies


"In The NDD Book, Dr. Sears once again delivers his signature recipe: authoritative, reliable, useful, compassionate, and wise guidance to better eating for a lifetime of better health."-David L. Katz, MD, Director, Prevention Research Center, Yale University School of Medicine


"Dr. Sears once again has taken a complex problem in pediatrics and underscored the importance of nutrition in helping to alleviate this problem. He has a talent for making difficult concepts easier to understand by parents and the lay public. An excellent book."--Allan Walker, M.D., Professor of Nutrition and Pediatrics, Harvard Medical School