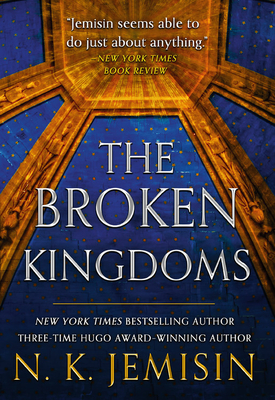 The Broken Kingdoms (Paperback)
Orbit, 9780316043960, 411pp.
Publication Date: November 3, 2010
Description
In the city of Shadow, beneath the World Tree, alleyways shimmer with magic and godlings live hidden among mortalkind. Oree Shoth, a blind artist, takes in a strange homeless man on an impulse. This act of kindness engulfs Oree in a nightmarish conspiracy. Someone, somehow, is murdering godlings, leaving their desecrated bodies all over the city. And Oree's guest is at the heart of it. . . The Inheritance Trilogy The Hundred Thousand KingdomsThe Broken KingdomsThe Kingdom of Gods
The Inheritance Trilogy (omnibus edition) Shades in Shadow: An Inheritance Triptych (e-only short fiction) The Awakened Kingdom (e-only novella)
For more from N. K. Jemisin, check out:
Dreamblood DuologyThe Killing MoonThe Shadowed Sun
The Broken Earth series The Fifth SeasonThe Obelisk Gate
About the Author
N. K. Jemisin is a Brooklyn author who won the Hugo Award for Best Novel for The Fifth Season, which was also a New York Times Notable Book of 2015. She previously won the Locus Award for her first novel, The Hundred Thousand Kingdoms, and her short fiction and novels have been nominated multiple times for Hugo, World Fantasy, Nebula, and RT Reviewers' Choice awards, and shortlisted for the Crawford and the James Tiptree, Jr. awards. She is a science fiction and fantasy reviewer for the New York Times, and you can find her online at nkjemisin.com.
Praise For The Broken Kingdoms…
"The very best kind of sequel: as lush and evocative and true as the first, with all the same sense of mystery, giving us the world and characters we already love, and yet with a new story and a wonderfully new perspective on the whole dazzling world and pantheon the author has built."
- Naomi Novik

"This is a book that readers won't be able to put down...A magnificent novel and one of the best books this reviewer has read this year." - Romantic Times (4-1/2 Stars)

"Returning fans will especially appreciate certain details, but this novel stands on its own and is worth reading purely for its own strengths." - Publishers Weekly (Starred Review)

"...The key is just to tell a great, exciting, engaging story that keeps you turning pages long past your bedtime. And Jemisin has definitely done that here." - io9.com

"Jemisin's talent as a storyteller should make her one of the fantasy authors to watch in the coming years." - Library Journal
Advertisement