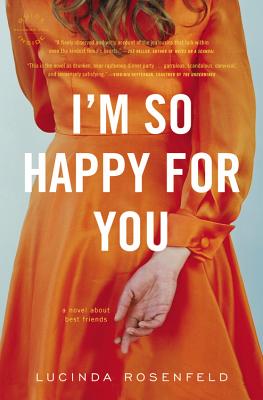 I'm So Happy for You (Paperback)
A novel about best friends
Back Bay Books, 9780316044509, 288pp.
Publication Date: July 29, 2009
* Individual store prices may vary.
Description
What if your best friend, whom you've always counted on to flounder in life and love (making your own modest accomplishments look not so bad), suddenly starts to surpass you in every way?

Wendy's best friend, Daphne, has always been dependably prone to catastrophe. And Wendy has always been there to help. If Daphne veers from suicidal to madly in love, Wendy offers encouragement. But when Daphne is suddenly engaged, pregnant, and decorating a fabulous town house in no time at all, Wendy is...not so happy for her. Caught between wanting to be the best friend she prides herself on being and crippling jealousy of flighty Daphne, Wendy takes things to the extreme, waging a full-scale attack on her best friend-all the while wearing her best, I'm-so-happy-for-you smile-and ends up in way over her head.

Rosenfeld has a knack for exposing the not-always-pretty side of being best friends--in writing that is glittering and diamond-sharp. I'M SO HAPPY FOR YOU is a smart, darkly humorous, and uncannily dead-on novel about female friendship.
About the Author
Lucinda Rosenfeld is the author of the novels What She Saw... and Why She went Home. Her fiction and essays have appeared in the New York Times Magazine, the New Yorker, Creative Non-Fiction, Slate.com, Glamour, and other magazines. She lives in Brooklyn, New York, with her husband and two young daughters.
Praise For I'm So Happy for You: A novel about best friends…
"Rosenfeld delves into the thornier side of female friendship in this hip take on modern womanhood. Wendy and Daphne have been best friends forever, but their relationship...comes to a breaking point when Daphne suddenly pulls herself together, stops fooling around with a married man and finds a new love interest who happens to be handsome, rich and obnoxious.... In the course of a few twists, misunderstandings and revealed secrets, Wendy questions whether the source of her inferiority complex is Daphne or herself. The two friends are by turns frustrating and sympathetic, while Rosenfeld takes a dark, hilarious and painfully accurate view of the less-than-pure reasons why women stay friends."—Publishers Weekly

"While the actions of nearly every character in the book are morally questionable, their emotions are real and often funny.... Rosenfeld demonstrates Wendy's dysfunctional relationships with her friends and family, and addresses the ugliness of envy with both humor and honesty."—Booklist

"Capturing the surprisingly competitive world of Brooklyn brownstones and Bugaboo strollers, Lucinda Rosenfeld's I'm So Happy for You takes the comic measure of the unlikely friendship between two women."—Vogue, "Summer's Best Beach Reads"

"[A] darkly funny story of what happens when friends become frenemies."—Redbook

"I'm So Happy for You is an amusing and chilling look at the less frequently explored one-upmanship of some female friendships. And while Wendy's psychotic behavior pushes people away, Rosenfeld will only draw fans closer with this masterful cautionary tale."—BookPage

"If you've ever gritted your teeth and offered a phony smile to that one friend who always seems to get everything she wants, Rosenfeld's frenemies tale will ring true...a witty, scathing novel that's a breeze to read."—Entertainment Weekly

"It's a rare page-turner: No one is murdered and no time bombs tick--just a friendship going to seed in the moneyed coliseum of New York City yuppiedom... The feat of Rosenfeld's quick-footed, juicy book is her fine shadings of two complicated but sympathetic figures, alone and in comparison. Neither woman falls into the stereotype of slit-eyed hellcat. Daphne might be self-involved, but even judgmental Wendy will grant that she never says a bad word about anyone... this novel's charms lie in its resolute kindness. The denouement isn't fierce but funny and wistful. Rosenfeld seems to want only the best for Daphne and Wendy: a witty, passionate life, examined just enough to decide on the next object of desire."—Los Angeles Times

"The book's confectionery veneer belies a heart of poison, as Rosenfeld tartly dispels the cherished chick-lit notion that female friendship conquers all. Equally ruthless is her sendup of overachieving New York women in feral pursuit of have-it-all motherhood without having first ascertained if they even like children."—The New Yorker

[A] funny tale of girlfriends gone wrong.... Lucinda Rosenfeld's I'm So Happy For You is a novel about female friendship, but it's not one of those sensitive, redeeming jobs. Rosenfeld has written a satire about the dark side, about the envy, the backbiting, the bitchiness. It's nasty, it's funny, and it has a certain undeniable authenticity.... I'm So Happy For You is darkly humorous, with excellent dialogue and sharp observations about contemporary culture."—The Boston Globe

"Despite the enormous popularity of an HBO and an entire literary genre ostensibly devoted to them, female friendships remain strangely underexplored, unlike the search for true love (I'm talking about you, Jane Austen), for which they are regularly thrown aside. Lucinda Rosenfeld stays focused in her new novel, I'm So Happy for You, and it pays off handsomely. The book explores a particularly rich relationship vein-the love of an Everywoman for her more beautiful, more glamorous pal.... Rosenfeld goes beyond the obvious issues of envy and the perils of vicariousness to examine a fascinating byproduct of female empathy.... Small resentments collect until one day, perhaps because of a trivial crime, they explode in a Wagnerian burst of emotion.... [A] thoroughly enjoyable and somewhat rare specimen of chick lit that stays focused on the chicks."—New York Times Book Review