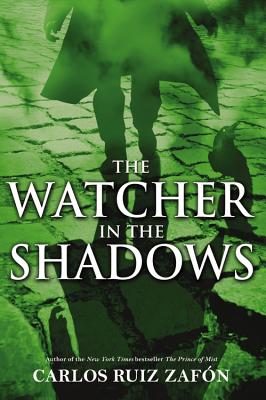 The Watcher in the Shadows (Hardcover)
Little, Brown Books for Young Readers, 9780316044769, 262pp.
Publication Date: June 18, 2013
Description
It was an unforgettable summer....

When fourteen-year-old Irene Sauvelle moves with her family to Cape House on the coast of Normandy, she's immediately taken by the beauty of the place--its expansive cliffs, coasts, and harbors. There, she meets a local boy named Ishmael, and the two soon fall in love. But a dark mystery is about to unfold, involving a reclusive toymaker who lives in a gigantic mansion filled with mechanical beings and shadows of the past.

As strange lights shine through the fog surrounding a small, barren island, Irene's younger brother dreams of a dark creature hidden deep in the forest. And when a young girl is found murdered, her body at the end of a path torn through the woods by a monstrous, inhuman force, Irene and Ishmael wonder--has a demonic presence been unleashed on the inhabitants of Cape House? Together, they'll have to survive the most terrifying summer of their lives, as they try to piece together the many mysteries and secrets hidden in a town torn apart by tragedy, amidst a labyrinth of lights and shadows.
About the Author
Carlos Ruiz Zafon is the author of six novels, including the "New York Times "bestseller "The Prince of Mist "and the international phenomena" The Shadow of the Wind "and "The Angel's Game." His next book in the Shadow of the Wind series, "The Prisoner of Heaven, " publishes this summer. His work has been published" "in more than fifty countries and honored with numerous awards. He" "divides his time between Barcelona, Spain, and Los Angeles, California."
Praise For The Watcher in the Shadows…
"Exciting...Plenty of thrills and chills."
-Publishers Weekly

"...A clever plot, sympathetic characters, and a richly detailed 1930s setting; a haunted, melancholy tone with an air of nostalgia and an atmosphere of menace; and a beautiful translation that provides the evocative languagethat serves as the glue holding it all together."
-Horn Book

"...A well-written, well-crafted tale full of unique characters with full personalities. In a world of YA fiction where characters are either Edward and Bella or Harry Potter and Katniss Everdeen, Irene and Ismael are a much-needed breath of fresh air."
-Tor.com
Advertisement