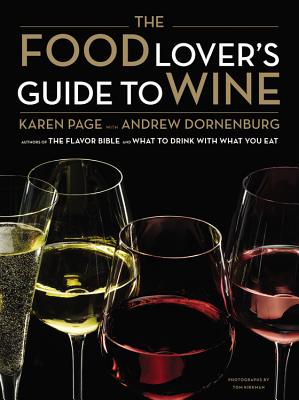 The Food Lover's Guide to Wine (Hardcover)
Little, Brown and Company, 9780316045131, 352pp.
Publication Date: November 3, 2011
* Individual store prices may vary.
Description
A wine book unlike any other, THE FOOD LOVER'S GUIDE TO WINE offers a fresh perspective via the single aspect of wine most compelling to food lovers: flavor.

At the heart of this indispensable reference, formatted like the authors' two previous bestsellers The Flavor Bible and What to Drink with What You Eat, is an encyclopedic A-to-Z guide profiling hundreds of different wines by their essential characteristics-from body and intensity to distinguishing flavors, from suggested serving temperatures and ideal food pairings to recommended producers (including many iconic examples). The book provides illuminating insights from dozens of America's best sommeliers via informative sidebars, charts and boxes, which complement the book's gorgeous four-color photography. Another groundbreaking work from two of the ultimate culinary insiders, this instant classic is the perfect gift book.
About the Author
Karen Page and Andrew Dornenburg are the authors of the James Beard Award-winning The Flavor Bible, as well as What to Drink with What You Eat, winner of the 2007 IACP "Cookbook of the Year" Award, the Georges Duboeuf "Wine Book of the Year Award," and the Gourmand World Cookbook Award. Their previous books Becoming a Chef, Dining Out, and The New American Chef have all been winners of or finalists for James Beard and/or IACP book awards. Paired personally as well as professionally, the couple lives in New York City.
Praise For The Food Lover's Guide to Wine…
"Their premise - that food lovers know flavor and
therefore have the chops to understand, discover, and choose great wines to go
with their meals - allows the authors to leave behind confusing wine
statistics, vintages, critical wine scores, and tongue-tying wine
classifications. Instead, they enliven their wine story-telling by going
straight to the country's foremost sommeliers for food and wine pairing
guidance."—Fine Cooking Magazine

"An essential addition to every wine lover's library"—Marguerite Thomas, WineReviewOnline.com

"There are plenty of food and wine pairing books on
the market, but when Karen Page and Andrew Dornenburg
... chime in, we know
it's going to be an informational read."—Amanda Gold, San Francisco Chronicle



"Best
Wine Book Of The Year: THE
FOOD LOVER'S GUIDE TO WINE. Not because Karen Page
and Andrew Dornenburg co-authored it, though that would be
reason enough. But because their latest book is good. Very good."



—Jenn Garbee, LA Weekly

"May
be their best book yet." —Rozanne Gold, Huffington Post

ON WHAT TO DRINK WITH WHAT YOU EAT: "This husband-and-wife team has long had the knack of being on the cutting edge of America's fascination with the food world...In this new work on the magical pairing of food and wine, Dornenburg and Page again rely on a formidable array of insiders to inform and enliven their research." - Chicago Tribune

"The husband-and-wife team of Andrew Dornenburg and Karen Page-he is a chef, she a journalist-has produced four books in the past six years, and these are the best places to experience the cult of the New American Chef." - New Yorker

"...Andrew Dornenburg and Karen Page had me at 'hello' a long time ago. That was seven years ago when I read their first book, Becoming a Chef. They went on to enthrall me with Culinary Artistry and then Dining Out, books that have enriched the fount of culinary knowledge in North America..." - Vancouver Sun
Book Videos