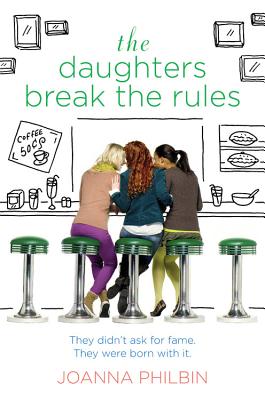 The Daughters Break the Rules (Hardcover)
Poppy, 9780316049030, 288pp.
Publication Date: November 1, 2010
* Individual store prices may vary.
or
Not Currently Available for Direct Purchase
Description
Daughters Rule Number Six: Never talk to the press about your parents.

After leaking a story about the family business, impetuous high school freshman Carina Jurgensen is cut off by her billionaire father. Always resourceful, she fibs her way into a job as a party planner for New York's annual Silver Snowflake Ball. But when Carina finds out that the party committee expects favors and freebies from her dad's A-list connections, a choice must be made: Does she get real about her downgraded status, or pretend she's still the ultimate heiress?

Best friends and fellow daughters of celebrities Lizzie Summers, Carina Jurgensen and Hudson Jones are back in Joanna Philbin's second stylish and heartfelt Daughters novel.
About the Author
Joanna Philbin was born in Los Angeles and raised in New York City. She holds a B.A. from Brown University and a J.D. and M.F.A. from the University of Notre Dame. She is the author of The Daughters series, and lives and writes in Los Angeles. Visit her at joannaphilbin.com.
Praise For The Daughters Break the Rules…
"Ever wonder what it's really like to grow up in Manhattan with a famous mom or dad? Well, Joanna Philbin is going to tell you. The Daughters is authentic and well-told. Gossip Girl herself would love this new series."

"I was drawn to the tantalizing story immediately, but my heart was stolen by the fierce friendship between three besties living life inside the celebrity fishbowl. I can't wait to read the next book!"

"Reading Joanna Philbin's funny, witty, and poignant debut is like getting an insider's glimpse into the gilded world of those born to be famous."

"As if navigating their high school hallways weren't enough, these girls have to do so under the entire world's watchful eyes!"

"Writing with a light tone that should appeal to a young female audience, the author chisels a little depth into the niche of chick lit. She makes readers care for her heroes and disdain her villains... Entertaining and not entirely fluffy."
Advertisement