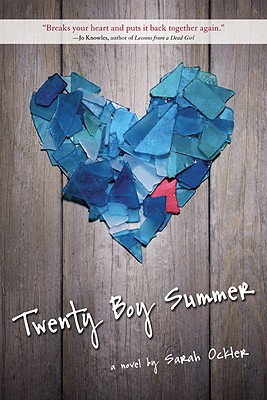 Twenty Boy Summer
Paperback

* Individual store prices may vary.
Description
"Don't worry, Anna. I'll tell her, okay? Just let me think about the best way to do it."
"Okay."
"Promise me? Promise you won't say anything?"
"Don't worry." I laughed. "It's our secret, right?"

According to her best friend Frankie, twenty days in ZanzibarBay is the perfect opportunity to have a summer fling, and if they meet one boy every day, there's a pretty good chance Anna will find her first summer romance. Anna lightheartedly agrees to the game, but there's something she hasn't told Frankie---she's already had that kind of romance, and it was with Frankie's older brother, Matt, just before his tragic death one year ago.

Beautifully written and emotionally honest, this is a debut novel that explores what it truly means to love someone and what it means to grieve, and ultimately, how to make the most of every single moment this world has to offer.
Praise For Twenty Boy Summer…
"Twenty Boy Summer is a tender and heartfelt story of love, loss, and letting go."—Deb Caletti, author of National Book Award finalist Honey, Baby, Sweetheart

"Ockler brings the salty tang of the ocean waves and the tingling anticipation of a first kiss to delicate life, while simultaneously evoking the mixed-up feelings of the friends, family, and loves left behind."—Lisa Ann Sandell, author of The Weight of the Sky and Song of the Sparrow

"Reading this book felt like diving underwater and emerging with wise little gems about friendship, grieving, and love."—Laura Resau, author of Red Glass

"Breaks your heart and puts it back together again."—Jo Knowles, author of Lessons From A Dead Girl and Jumping Off Swings

"Anna's authentic voice and some lyrical writing will satisfy fans of Sarah Dessen, while the mix of romance, drama, and tragedy will be a draw for teen readers of Nicholas Sparks and Jodi Picoult."—Booklist

"[A] sincere, romantic tearjerker. Readers will easily relate to Anna's authentically depicted feelings of lust, longing, shame and fear as she cautiously embarks on a new summer love."—Kirkus Reviews

"This is smoothly written and romantic as all get out....ideal for readers looking for romance salted with a bit of tears as well as a bit of sea air."—BCCB
Little, Brown Books for Young Readers, 9780316051583, 320pp.
Publication Date: May 1, 2010
About the Author
Sarah Ockler wrote and illustrated her first book at age six-an adaptation of Steven Spielberg's E.T. Still recovering from her own adolescence, Sarah now writes for young adults. While nomadic at heart, she currently lives in Upstate New York with her husband Alex and an ever-expanding collection of sea glass.