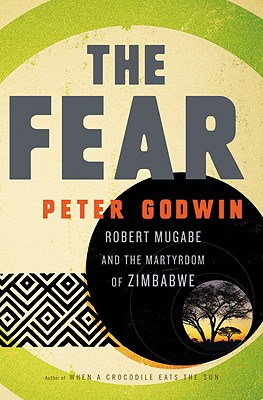 The Fear (Hardcover)
Robert Mugabe and the Martyrdom of Zimbabwe
Little, Brown and Company, 9780316051736, 384pp.
Publication Date: March 23, 2011
Other Editions of This Title:
Paperback (7/1/2011)
Paperback (10/12/2011)
Paperback (10/1/2010)
* Individual store prices may vary.
Description
Journalist Peter Godwin has covered wars. As a soldier, he's fought them. But nothing prepared him for the surreal mix of desperation and hope he encountered when he returned to Zimbabwe, his broken homeland.

Godwin arrived as Robert Mugabe, the country's dictator for 30 years, has finally lost an election. Mugabe's tenure has left Zimbabwe with the world's highest rate of inflation and the shortest life span. Instead of conceding power, Mugabe launched a brutal campaign of terror against his own citizens. With foreign correspondents banned, and he himself there illegally, Godwin was one of the few observers to bear witness to this period the locals call The Fear. He saw torture bases and the burning villages but was most awed as an observer of not only simple acts of kindness but also churchmen and diplomats putting their own lives on the line to try to stop the carnage.

The Fear is a book about the astonishing courage and resilience of a people, armed with nothing but a desire to be free, who challenged a violent dictatorship. It is also the deeply personal and ultimately uplifting story of a man trying to make sense of the country he can't recognize as home.
About the Author
Peter Godwin is the award-winning author of When a Crocodile Eats the Sun and Mukiwa. Born and raised in Zimbabwe, he was educated at Cambridge and Oxford and became a foreign correspondent, reporting from more than 60 countries. Since moving to Manhattan, he has written for National Geographic, the New York Times Magazine, and Vanity Fair. He has taught at Princeton and Columbia and received a Guggenheim fellowship in 2010.
Praise For The Fear: Robert Mugabe and the Martyrdom of Zimbabwe…
"
The Fear
is an important book detailing the violent realities, the grotesque injustices, the hunger, the sadness, and a portrait of Mugabe, the tyrant who is the cause of it all. Godwin is passionate and personal, as well as bold in his travel and scrupulous in his documentation."—
Paul Theroux, author of Ghost Train to the Eastern Star
"There is nothing on the subject of Robert Mugabe's terror state that comes even close to Peter Godwin's brilliant account. It took great courage to pursue this horror at close range, as Godwin did. This book will change utterly readers' perceptions of what is happening in this afflicted corner of Africa."
—
Norman Rush, author of Mating and Mortals
"
The Fear
is an urgent and essential book: a stunning account of a dictator's determination to destroy his people, and of his people's refusal to be destroyed. Written in the teeth of devastation and despair, without recourse to sentimentality or false hope, it is a heroic account of political heroism -- and it makes for relentlessly gripping reading."—
Philip Gourevitch, author of We Wish to Inform You That Tomorrow We Will be Killed With Our Families
"A feat of fearless reporting, this shattering story is not only an expose of the horrors of political violence, but a testament to the astonishing courage of ordinary citizens in the face of evil."
—
Melanie Thernstrom, author of The Pain Chronicles
"Peter Godwin's latest book is the most powerful indictment of Robert Mugabe's regime yet written, marking out the author as one of the sharpest observers of modern Africa."
—
The Economist
"Given Godwin's steady gaze back toward his home country over the past decade and a half, it is tempting to categorize
The Fear
as a sequel to his memoirs, but this work is too uncompromising and fierce for that.... the result is his most powerful work to date.... Godwin gives the rest of the world a reason to act. He argues that justice is not only possible in Zimbabwe, it is essential."—
Alexandra Fuller
,
Harper's
"mesmerizing.... When a writer with such powers sets out to break your heart, you had best be prepared to have it broken. But
The Fear
is far more than a catalog of human rights violations and tragedy, in no small part due to the astonishing courage and determination of the Zimbabweans Godwin interviewed. Even those left cold by the usual run of "inspirational" literature will find these stories stirring."—
Laura Miller
,
Salon
"
The Fear
is utterly fearless....incredibly vivid and haunting and, sadly, timely."—
James Zug
,
The Boston Globe
"
The Fear
is a gut-wrenching portrait of Mugabe's enormous political sadism --and the brave, heartbreaking, nearly superhuman resistance to it.... In the hands of a less talented writer,
The Fear
could have become simply too painful to read. But while Godwin spares us nothing, he writes with such compassion, poetry and ironic humor that you cannot put his book down....
The Fear
is a visceral masterpiece. It's illuminating, infuriating and informative. And its implications extend far beyond Zimbabwe --to the northern end of the continent and beyond, where similar struggles are being waged against other tyrannical dictators.
The Fear
is as important a book as we can read right now. It makes each and every one of us witness."—
Susan Jane Gilman
,
NPR "All Things Considered"
Coverage from NPR
or
Not Currently Available for Direct Purchase