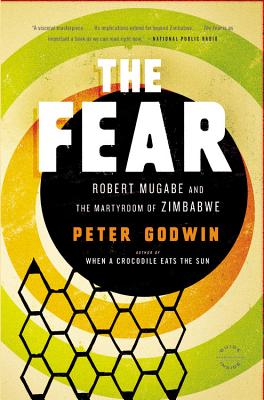 The Fear (Paperback)
Robert Mugabe and the Martyrdom of Zimbabwe
Back Bay Books, 9780316051873, 400pp.
Publication Date: October 12, 2011
Other Editions of This Title:
Paperback (7/1/2011)
Hardcover (3/23/2011)
Paperback (10/1/2010)
* Individual store prices may vary.
Description
In 2008, memoirist and journalist Peter Godwin secretly returned to his native Zimbabwe after its notoriously tyrannical leader, Robert Mugabe, lost an election. The decision was severely risky--foreign journalists had been banned to prevent the world from seeing a corrupt leader's refusal to cede power. Zimbabweans have named this period, simply, The Fear.

Godwin bears witness to the torture bases, the burning villages, the opposition leaders in hiding, the last white farmers, and the churchmen and diplomats putting their own lives on the line to stop the carnage. Told with a brilliant eye for detail, THE FEAR is a stunning personal account of a people laid waste by a despot and, armed with nothing but a desire to be free, their astonishing courage and resilience.
About the Author
Peter Godwin is the award-winning author of When a Crocodile Eats the Sun and Mukiwa. Born and raised in Zimbabwe, he was educated at Cambridge and Oxford and became a foreign correspondent, reporting from more than 60 countries. Since moving to Manhattan, he has written for National Geographic, the New York Times Magazine, and Vanity Fair. He has taught at Princeton and Columbia, and in 2010 received a Guggenheim fellowship.
Praise For The Fear: Robert Mugabe and the Martyrdom of Zimbabwe…
"The Fear is an important book detailing the violent realities, the grotesque injustices, the hunger, the sadness, and a portrait of Mugabe, the tyrant who is the cause of it all. Godwin is passionate and personal, as well as bold in his travel and scrupulous in his documentation."—Paul Theroux, author of Ghost Train to the Eastern Star

"There is nothing on the subject of Robert Mugabe's terror state that comes even close to Peter Godwin's brilliant account. It took great courage to pursue this horror at close range, as Godwin did. This book will change utterly readers' perceptions of what is happening in this afflicted corner of Africa."—Norman Rush, author of Mating and Mortals

"The Fear is an urgent and essential book: a stunning account of a dictator's determination to destroy his people, and of his people's refusal to be destroyed. Written in the teeth of devastation and despair, without recourse to sentimentality or false hope, it is a heroic account of political heroism -- and it makes for relentlessly gripping reading."—Philip Gourevitch, author of We Wish to Inform You That Tomorrow We Will be Killed With Our Families

"A feat of fearless reporting, this shattering story is not only an expose of the horrors of political violence, but a testament to the astonishing courage of ordinary citizens in the face of evil."—Melanie Thernstrom, author of The Pain Chronicles

"Peter Godwin's latest book is the most powerful indictment of Robert Mugabe's regime yet written, marking out the author as one of the sharpest observers of modern Africa."—The Economist

Peter Godwin' s passionate and courageous memoir catalogues Zimbabwe's descent into horror with such vivid detail.... But this is not just a book about the savagery of Mugabe's goons. It is a testament to the courage and resilience of my fellow countrymen and women.... Godwin's heroes refuse to back down. Again and again they find ways to resist. This remarkable courage runs a thread of hope through the book."—Wilf Mbanga, The Guardian

"remarkable.... The depiction of the heroic (if "prissy") liberation leader against white-minority rule turned brutal power-monger is at once personal, well-informed, and at times, heart-racing. Godwin and Georgina tour the economically devastated and state-terrorized cities, farms, and diamond mines at considerable personal risk, gathering candid interviews with dispossessed farmers, marginalized elites, and former insiders to cast a light on the workings of Mugabe's dictatorship and psychology, and the "fear factor" crucial to his control. Godwin's skills as a journalist and his personal connection to Zimbabwe combine to create an astonishing piece of reportage marked by spare, stirring description, heartrending action, and smart analysis."—Publishers Weekly