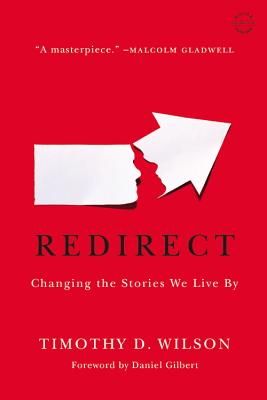 Redirect (Paperback)
Changing the Stories We Live By
Back Bay Books, 9780316051903, 304pp.
Publication Date: January 6, 2015
Other Editions of This Title:
CD-Audio (8/17/2011)
Hardcover (9/8/2011)
Paperback (9/1/2011)
* Individual store prices may vary.
Description
"There are few academics who write with as much grace and wisdom as Timothy Wilson. REDIRECT is a masterpiece." -Malcolm Gladwell

What if there were a magic pill that could make you happier, turn you into a better parent, solve a number of your teenager's behavior problems, reduce racial prejudice, and close the achievement gap in education? There is no such pill, but story editing - the scientifically based approach described in REDIRECT - can accomplish all of this.

The world-renowned psychologist Timothy Wilson shows us how to redirect the stories we tell about ourselves and the world around us, with subtle prompts, in ways that lead to lasting change. Fascinating, groundbreaking, and practical, REDIRECT demonstrates the remarkable power small changes can have on the ways we see ourselves and our environment, and how we can use this in our everyday lives.
About the Author
Timothy D. Wilson is the Sherrell J. Aston Professor of Psychology at the University of Virginia. He has written for Science and the New York Times, among other publications, and is the author of Strangers to Ourselves. He lives in Charlottesville, Virginia.
Praise For Redirect: Changing the Stories We Live By…
"There are few academics who write with as much grace and wisdom as Timothy Wilson. Redirect is a masterpiece."—Malcolm Gladwell

"Accessible, engaging and consistently WTF-worthy...an instant classic of popular science."—Evening Standard

"This presents a fascinating argument for how humans make sense of the world."—Library Journal

"[In Redirect], a keen observer of the human condition explains how tweaking our personal narratives can have a huge effect on our lives."—Kirkus Reviews

"For those...who find in social psychology a viable vehicle for leading us more surely on the path towards what is true, right and good, Redirect is likely to be a stimulating, valuable read."—New Scientist Culture Lab

"With a deft narrative touch, an engaging metaphor for bringing about psychological change (personal story editing), and a ferocious commitment to scientific evidence, Timothy Wilson has made a remarkable contribution to knowledge."—Robert Cialdini, author of Influence

"Whether you are a parent, educator, employer, or simply someone who cares about making the world a better place, you should read this book."—Sonja Lyubomirsky, Ph.D., author of The How of Happiness

"Redirect is a great book!"—Carol Dweck, PhD, author of Mindset

"Wouldn't it be amazing if a very smart scientist could write a book on happiness, crime, violence, drug and alcohol abuse, parenting, and teenage pregnancy--and sum up all the research in clear and surprising lessons on how we should live our lives? Well, Timothy Wilson is the scientist and Redirect is the book, and it is in fact amazing."—Daniel M. Wegner, Harvard University, author of The Illusion of Conscious Will

"Redirect reveals the hidden meanings we assume in our everyday lives, how these meanings shape our behavior, and how we can change our assumptions and the world. Extraordinary."—Greg Walton, PhD, Department of Psychology, Stanford University

"This should be required reading for any well-intentioned person who wants to make the world a better place."—James W. Pennebaker, author of The Secret Life of Pronouns

"This glorious book shimmers with insights. Timothy Wilson has distilled the field's wisdom and shown us how to use it to change ourselves and the world. This may well be the single most important psychology book ever written."—Daniel Gilbert