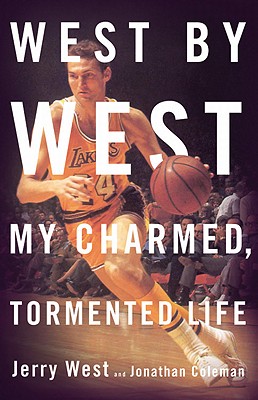 West by West: My Charmed, Tormented Life (Hardcover)
My Charmed, Tormented Life
Little, Brown and Company, 9780316053495, 352pp.
Publication Date: October 1, 2011
* Individual store prices may vary.
or
Not Currently Available for Direct Purchase
Description
He is one of basketball's towering figures: "Mr. Clutch," who mesmerized his opponents and fans. The coach who began the Lakers' resurgence in the 1970s. The general manager who helped bring "Showtime" to Los Angeles, creating a championship-winning force that continues to this day.
Now, for the first time, the legendary Jerry West tells his story-from his tough childhood in West Virginia, to his unbelievable college success at West Virginia University, his 40-year career with the Los Angeles Lakers, and his relationships with NBA legends like Bill Russell, Wilt Chamberlain, Kareem Abdul-Jabbar, Magic Johnson, Shaquille O'Neal, and Kobe Bryant. Unsparing in its self-assessment and honesty, WEST BY WEST is far more than a sports memoir: it is a profound confession and a magnificent inspiration.
About the Author
Jerry West is widely regarded as one of the greatest basketball players of all time. After retiring from the Los Angeles Lakers in 1974, West went on to lead the team-- first as a coach, and then as the general manager. He lives in California and West Virginia.

Jonathan Coleman is the bestselling author of "Exit the Rainmaker," "At Mother's Request," and "Long Way to Go." He is a former producer and correspondent with CBS News.He lives in Charlottesville, Virginia.
Praise For West by West: My Charmed, Tormented Life…
"Anyone who follows basketball knows that Jerry West was a supreme athlete and a brilliant general manager. What I did not know until reading this powerful book was just how complex he is. West by West is a rounded, honest and moving exploration not just of West's life under the arena spotlights, but his passages through his darkest hours. With remarkable clarity and courage, West explores his flaws and ghosts, his glory on the court and his struggles off. Paralyzed and haunted by his childhood, this was a superstar who, at the top of his game, could not escape the feeling that he belonged at the bottom. Few would have the courage to look so deeply into the mirror, but in this exceptional book, West has done so."
-author of A Writer's Life

"His silhouette image has long been the NBA's logo-a fitting symbol for a revered, enigmatic, and deeply private sports icon. But in this book, with unflinching candor and in remarkable detail, Jerry West emerges proudly and boldly from the shadows of his own life."
-author of Willie Mays: The Life, the Legend

"Apart from being an unquestionably successful, uncommonly admired human being, Jerry West...is a man traveling with a lot of demons. Pick up a copy of this brutally candid account of his life and you will understand him quite a bit better."
-Los Angeles Times

"West by West [goes] past the point where the cheers fade and sports books end to pose a question that rarely comes up: What is it all worth?"
-New York Times

"I have just read Jerry West's memoir, West by West and it's a great read. This is a very insightful book about one the greatest basketball players and minds that has ever been involved the game. You can finally get to understand the man from the inside of his life and not have to guess what was going on in his head. He's very forthcoming and candid about all of the ups and downs of his whole life -not just his basketball career and he pulls no punches."

"West has proven to be the rarest of all-time great athletes by revealing, without a shadow of a doubt, that he's unfailingly human. His hard-scrabble origins and resulting trauma over the decades is proof that fame and fortune is no safeguard against life's trials and tribulations...the release of his autobiography...reveals an uncharacteristically personal side that bares his soul to the core."
-Pittsburgh Tribune-Review

"Searing...Very compelling.... It's like West taking Tony Soprano's chair in Dr. Melfi's office and explaining every detail of the most famous career in NBA player-exec history.... Like listening to Van Gogh talk about why he painted what he did."
-The San Jose Mercury News

"West by West isn't a typical sports biography, and it doesn't take long to figure that out."
-The Charleston Gazette

"Jerry West did not need to do the difficult work in healing himself that he has done in this book.....This is nothing short of amazing courage."
-Huffington Post

"Who wouldn't want to be Jerry West? Well, maybe Jerry West, for one. Hardcore fans will relish West's reflections on the game that has obsessed him, stories about teammates and opposing players, and his selections for an all-time Dream Game....In a genre notorious for merely waving pompoms, West offers an unusually candid account of his personal and professional life."
-Kirkus Reviews

"If West's star is among the brightest in the NBA firmament, the dark side of his success, told with startling candor, is almost too painful to learn. But fans of the game will want to understand what made

Jerry West run."
-Booklist

"Reads like a modern history of basketball, replete with stories of the greats."
-Christian Science Monitor
Book Videos
Coverage from NPR
Advertisement