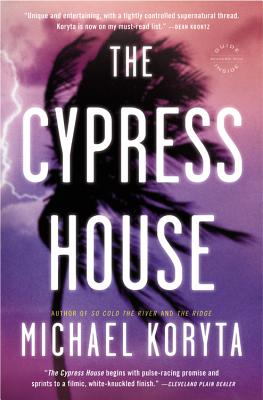 The Cypress House (Paperback)
Back Bay Books, 9780316053716, 448pp.
Publication Date: May 12, 2011
Other Editions of This Title:
Digital Audiobook (1/23/2011)
Paperback, Large Print (1/24/2011)
Hardcover (1/24/2011)
Mass Market (7/31/2012)
Compact Disc (1/1/2011)
Hardcover (3/1/2011)
Paperback (3/1/2011)
Paperback (9/1/2011)
Pre-Recorded Audio Player (1/24/2011)
* Individual store prices may vary.
Description
Arlen Wagner has seen it in men before-a trace of smoke in their eyes that promises imminent death. He is never wrong.

So when he awakens on a train one hot Florida night and sees death's telltale sign in the eyes of his fellow passengers, he abandons the train with 19-year-old Paul Brickhill. Soon, they stranded at the Cypress House-directly in the path of a hurricane. There are much deadlier threats than the storm in this place, and Arlen's eerie gift warns that they'll never leave. From its chilling beginning to terrifying end, The Cypress House is a story of relentless suspense from "one of the best of the best" (Michael Connelly).
About the Author
Michael Koryta is the New York Times bestselling author of fourteen novels, most recently If She Wakes. His previous novels--including Last Words, Those Who Wish Me Dead, and So Cold the River--were New York Times notable books, national bestsellers, and have been nominated for numerous awards, including having won the Los Angeles Times Book Prize. Koryta is a former private investigator and newspaper reporter. He lives in Bloomington, Indiana, and Camden, Maine.
Praise For The Cypress House…
"Michael Koryta is one of our new dynamos in the world of books, and in The Cypress House he spreads his range, wedding suspense with the supernatural in the eeriness of 1930s Florida. He uses the psychology of place to penetrate the human heart and delivers his tale of hurricanes and love and hauntings with great narrative force. Koryta's becoming a wonder we'll appreciate for a long time."—Daniel Woodrell, author of Winter's Bone

"The Cypress House is a unique and entertaining blend of noir and paranormal suspense, with a tightly controlled supernatural thread as believable as the gunplay. Mr. Koryta is at the start of what will surely be a great career. He's now on my must-read list."—Dean Koontz, author of Lost Souls

"The Cypress House is a dazzling blend of suspense, the supernatural, and superb storytelling. What a gifted writer. Michael Koryta is the real deal."—Ron Rash, author of Serena

"Koryta is superb with mood and setting...the simmering tension erupts into a rolling boil by the bloody, spooky, and satisfying ending."—Keir Graff, Booklist

"Following up his acclaimed gothic, So Cold the River, Koryta blends gritty noir and ghostly visions in a novel that seems custom-designed for Nicolas "Ghost Rider" Cage. Arlen Wagner, a survivor of bloody battles in Europe, is on a train headed for a work camp in the Florida Keys when he sees smoke coming from the eyes of passengers and skeletons instead of bodies....the novel builds to a richly satisfying climax...A commanding performance in the field of supernatural noir."—Kirkus

"Koryta's masterful follow-up to So Cold the River effectively combines supernatural terror with the suffocating fatalism of classic American noir....Koryta excels at describing both scenery and his characters' inner landscapes. It's hard to think of another book with equal appeal to Stephen King and Cornell Woolrich fans."—Publishers Weekly

"You'll be hooked from the first sentence of this haunting thriller that twists like a water moccasin through the swamplands of Depression-era Florida, drenched in rain, blood, and evil. Jim Thompson noir with Stephen King spookiness."—Neil McMahon, author of Lone Creek and L.A. Mental

"An enthralling novel that easily melds mystery fiction, the supernatural and just a touch of the old-fashioned western and historical novels without losing the conventions of each genre. Yet The Cypress House is so grounded in reality that no plot turn or character rings false. The Cypress House works as a novel about post-war stress, small-town corruption and the dusty Great Depression. Koryta dredges up the dread that festers below the surface of the characters who reside at The Cypress House.... As he did in last year's supernatural-tinged So Cold the River, Koryta again shows his affinity for incorporating varied genres into a cohesive story and, along the way, stretching the boundaries of each."—Oline H. Cogdill, The Olympian, The Modesto Bee , The Sacramento Bee, The Lexington Herald Leader , The Bellingham Herald, and the Kansas City Star

"Michael Koryta is mining Stephen King territory [in The Cypress House] and carving out a spot all his own."—Sarah Weinman, Women's World

"There is an otherworldly quality to the Depression-era South in Michael Koryta's The Cypress House, and not just because the hero, Arlen Wagner, knows when people are going to die...The depiction of Florida's panhandle, an overgrown back-woods years before developers arrived, and the isolated inn on the gulf Coast beach where Arlen ends up with young Civilian Conservation Corps co-worker Paul Brickhill, are equally eerie....Deftly blending all genres, Koryta balances the scary violence of Judge Solomon Ward and his tame sheriff-a nightmare of despotic small-town lawmen peculiar to a later South-with the sexual currents stirred up among the three people effectively trapped in the house.... However counterintuitive, he makes this curious mix of supernatural prescience and gothic-noir work with a seamless atmospheric certainty."—P.G. Koch, Houston Chronicle

"A gripping noir thriller-ghost story."—Colette Bancroft, St. Petersburg Times

"An enthralling novel that easily melds mystery fiction, the supernatural and just a touch of the old-fashioned western and historical novels without losing the conventions of each genre. Yet The Cypress House is so grounded in reality that no plot turn or character rings false. The Cypress House works as a novel about post-war stress, small-town corruption and the dusty Great Depression. Koryta dredges up the dread that festers below the surface of the characters who reside at "The Cypress House."... Koryta again shows his affinity for incorporating varied genres into a cohesive story and, along the way, stretching the boundaries of each.... Koryta's powerful storytelling depicts believable characters and a view of Old Florida that is seldom seen outside of old postcards."—Oline H. Cogdill, The South Florida Sun-Sentinel

"Michael Koryta grabs readers with tales of gripping suspense and just enough touches of the supernatural to keep them nervous on two levels...Koryta does match King for storytelling, and he creates characters who come alive for readers...Koryta, who made the jump for crime writing to crime writing with a twist, knows how to build suspense. He paints dark and dangerous times with hurricanes and murderers threatening Wagner, Brickhill and Rebecca. His thriller is graced with masterly descriptions of the area and the pending storm that is another killer the trio must survive. In his taut and atmospheric story, Koryta keeps readers guessing right up to the end on how things will turn out, especially when Wagner begins to see the signs of death in his own face."—Mary Foster, Associated Press

"The second half of The Cypress House picks up steam, building to a seriously tense and twisted final act. With its evocative Gulf Coast setting, the book makes for a warm beach read in midwinter."—Darren Franich, Entertainment Weekly

"A healthy helping of noir crime novel, a swirl of supernatural horror, a spoonful of historical fiction, a dollop of old-time Western and a dash of finely tuned observation of the natural world. But Koryta isn't simply following a recipe. He's a creative chef, capable of crafting a dish greater than the sum of its ordinary parts. As in last year's So Cold the River, he cooks up a suspenseful treat without a lot of empty calories in The Cypress House....when it comes to plot and suspense, he knows what he's doing. He paces the novel masterfully, allowing it to steam for a while, simmer as threads from the past are added to the mix, then come to a rolling boil for the last 100 pages. When violence enters the picture, and it often does, Koryta lets the horror speak for itself rather than exploiting it. His knowledge of the Gulf Coast landscape helps with the novel's credibility but never intrudes on the action....The Cypress House proves that So Cold the River wasn't a one-hit wonder. Koryta... is quickly taking his place among the top American writers of supernatural suspense."—Margaret Quamme, The Columbus Dispatch

"The last scenes in the novel...verify Koryta's knack for putting a supernatural spin on the angst depicted in classic noir fiction."—Marilyn Stasio, The New York Times Book Review

"The Cypress House begins with pulse-racing promise....[a] delicious setup....sprinting to a filmic, white-knuckled finish."—Andrea Simakis, The Cleveland Plain Dealer