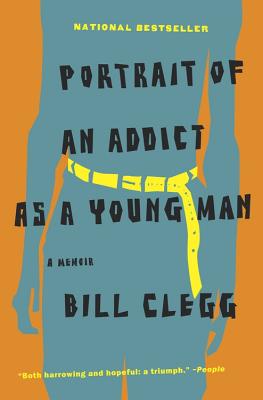 Portrait of an Addict as a Young Man (Paperback)
A Memoir
Back Bay Books, 9780316054669, 256pp.
Publication Date: August 8, 2011
Other Editions of This Title:
Digital Audiobook (6/6/2010)
Paperback (6/1/2010)
Paperback (6/1/2011)
* Individual store prices may vary.
Description
Bill Clegg had a thriving business as a literary agent, representing a growing list of writers. He had a supportive partner, trusting colleagues, and loving friends when he walked away from his world and embarked on a two-month crack binge. He had been released from rehab nine months earlier, and his relapse would cost him his home, his money, his career, and very nearly his life.

What is it that leads an exceptional young mind to want to disappear? Clegg makes stunningly clear the attraction of the drug that had him in its thrall, capturing in scene after scene the drama, tension, and paranoiac nightmare of a secret life-and the exhilarating bliss that came again and again until it was eclipsed almost entirely by doom. PORTRAIT OF AN ADDICT AS A YOUNG MAN is an utterly compelling narrative-lyrical, irresistible, harsh, and honest-from which you simply cannot look away.
About the Author
Bill Clegg is a literary agent in New York. Portrait of an Addict as a Young Man is his first book.
Praise For Portrait of an Addict as a Young Man: A Memoir…
"Clegg may not have been able to control his demons, but he is utterly in charge of this material, with a voice that is knowing and self-deprecating in exactly the right measure."—Jonathan Van Meter, Vogue

"It turns out there is room on the shelf for one more addiction memoir....Clegg spares no one's feelings, least of all his own; it's not the brutality that makes this worthwhile but rather the strange beauty of the stream-of consciousness prose. We're voyeurs, as helpless to stop the carnage as the author himself."—Mickey Rapkin, GQ

"Portrait of an Addict as a Young Man is an instant classic. Anybody who knows anything about addiction will feel morally altered by this book. To an extraordinary degree, it has both beauty and truth."—Andrew O'Hagan

"Bill Clegg's memoir is a startling, hair-raising, and compulsively readable account of one man's descent into the hell of addiction."—Danielle Trussoni

"Bill Clegg's story of a man-largely locked in hotel rooms, engaged in a desperate, heart-wrenching battle with himself--is destined to become a cult classic of writing on drug addiction."—Irvine Welsh

"I devoured Portrait of an Addict as a Young Man, couldn't put it down. The writing throughout is beautiful, and all the while it is reportorial and efficient and honest--a rare combination of feats!"—Elinor Lipman

"Rings true in brutal, blunt strokes."—David Carr, The New York Times Book Review

"This narrative of addiction is itself addictive, and strangely beautiful."—Maggie Fergusson, The Economist

"I raced through the book in an evening.... That Clegg survived and is well enough to write a book this good is incredible."—Susan Juby, The Globe and Mail

"Bill Clegg has written an exceptionally fine addition to a genre largely bereft of style, intelligence, and moral complexity.... It's plain to see that people stuck by him because they enjoy his company, because he inspires fierce loyalty. Now, at last, Bill Clegg seems capable of believing it."—Kirk Davis Swinehart, Chicago Tribune

"One of the reasons to stick with Portrait of an Addict as a Young Man is the lightly narcotized sensorium of Mr. Clegg's prose.... He can write."—Dwight Garner, The New York Times

"Many first-time memoirists are motivated by self-serving desires: to make the world notice them or to make the world like them. Neither can be said of Bill Clegg."—Newsweek