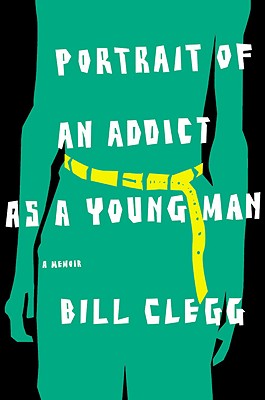 Portrait of an Addict as a Young Man (Paperback)
A Memoir
Little, Brown and Company, 9780316054676, 240pp.
Publication Date: June 1, 2010
Other Editions of This Title:
Digital Audiobook (6/6/2010)
Paperback (8/8/2011)
Paperback (6/1/2011)
* Individual store prices may vary.
Description
Bill Clegg had a thriving business as a literary agent, a supportive partner, trusting colleagues, and loving friends when he walked away from his world and embarked on a two-month crack binge. He had been released from rehab nine months earlier, and his relapse would cost him his home, his money, his career, and very nearly his life.

What is it that leads an exceptional young mind want to disappear? Clegg makes stunningly clear the attraction of the drug that had him in its thrall, capturing in scene after scene the drama, tension, and paranoiac nightmare of a secret life--and the exhilarating bliss that came again and again until it was eclipsed almost entirely by doom. He also explores the shape of addiction, how its pattern--not its cause--can be traced to the past.

Portrait of an Addict as a Young Man is an utterly compelling narrative--lyrical, irresistible, harsh, honest, and beautifully written--from which you simply cannot look away.
About the Author
Bill Clegg is a literary agent in New York. Portrait of an Addict as a Young Man is his first book.
Praise For Portrait of an Addict as a Young Man: A Memoir…
PRAISE FOR PORTRAIT OF AN ADDICT AS A YOUNG MAN:

"Bill Clegg's Portrait of an Addict as a Young Man stands up to Frederick Exley's great memoir of alcoholism, A Fan's Notes . . . . But really, forget comparisons. Read the book."
-Michael Cunningham, author of The Hours

"Portrait of an Addict as a Young Man is an instant classic. Anybody who knows anything about addiction will feel morally altered by this book. To an extraordinary degree, it has both beauty and truth. It goes beyond its own revelations to become a book for everybody, a work of art. I suppose we live for the magic of these things."
-Andrew O'Hagan, author of Be Near Me, Winner of the Los Angeles Times Prize for Fiction, 2008

"Bill Clegg's memoir is a startling, hair-raising, and compulsively readable account of one man's descent into the hell of addiction. That Clegg lived to tell his story is amazing. That he has captured the details of his experience with such beauty is even more so. Unforgettable."
-Danielle Trussoni, author of the memoir Falling Through the Earth, named one of the Ten Best Books of 2006 by the New York Times

"It's a remarkable achievement when a writer can evoke the most desperate episodes of addiction with the unflinching honesty required to make such a memoir worth reading, yet somehow manage to completely transcend sleaze, sordidness, and vapid self-justification. Bill Clegg's story of a man-largely locked in hotel rooms, engaged in a desperate, heart-wrenching battle with himself--is destined to become a cult classic of writing on drug addiction."
-Irvine Welsh, author of Trainspotting

"I devoured Portrait of an Addict as a Young Man, couldn't put it down. The writing throughout is beautiful, and all the while it is reportorial and efficient and honest--a rare combination of feats!"
-Elinor Lipman, author of Then She Found Me and, most recently, The Family Man

"For all the literary musings on drugs, the business of literature is a rather sober and cerebral place. That fact may explain why the memoir of literary agent Bill Clegg, which recounts a nosedive not so very long ago into crack addiction, seems as shocking as his ability to construct gorgeously poetic scenes seems intuitive.... Clegg barrels full force into a spiraling Manhattan phantasmagoria of hot-boxed hotel bathrooms, more-than-willing drug dealers, boyfriend betrayal, insane paranoia, days gone missing, and the endless hunger of wanting just one more taste of the very thing that's eating you whole."
-Interview

"You won't be able to stop reading until it's all gone - and you will crave more...what makes Clegg's book especially riveting is the remarkable speed of his vertiginous fall from grace....Portrait is a spare, elegant book, one that shows admirable restraint in the face of extreme, even pathological behavior (A Million Little Pieces this is not.) Clegg may not have been able to control his demons, but he is utterly in charge of this material, with a voice that is knowing and self-deprecating in exactly the right measure."
-Vogue

"It turns out there is room on the shelf for one more addiction memoir....Clegg spares no one's feelings, least of all his own; it's not the brutality that makes this worthwhile but rather the strange beauty of the stream-of consciousness prose. We're voyeurs, as helpless to stop the carnage as the author himself."
-GQ

"Clegg...cuts through the addiction-memoir noise, recounting the glamour and pathos of self-destruction with efficiency and disturbing clarity."
-Details

"Bill Clegg... has written a streamlined, hair-raising, high-torque memoir...Even though we know how the story must end, it's hard to believe Clegg will survive the ordeal he describes in such horrific detail."
-Vanity Fair

"Mesmerizing...reading it is like letting the needle down on a Nick Drake album. [Clegg] tells his story in short, atmospheric paragraphs, each separated by white space, each its own strobe-lighted snapshot of decadent poetic memory....Portrait of an Addict as a Young Man is the lightly narcotized sensorium of Mr. Clegg's prose."
-The New York Times
Book Videos
Coverage from NPR
or
Not Currently Available for Direct Purchase