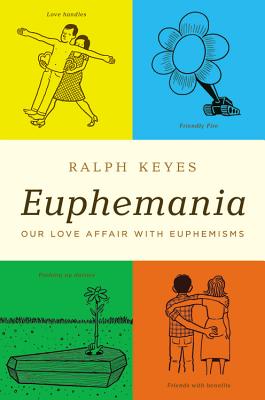 Euphemania (Hardcover)
Our Love Affair with Euphemisms
Little, Brown Spark, 9780316056564, 288pp.
Publication Date: December 14, 2010
* Individual store prices may vary.
Description
How did die become kick the bucket, underwear become unmentionables, and having an affair become hiking the Appalachian trail? Originally used to avoid blasphemy, honor taboos, and make nice, euphemisms have become embedded in the fabric of our language. EUPHEMANIA traces the origins of euphemisms from a tool of the church to a form of gentility to today's instrument of commercial, political, and postmodern doublespeak.

As much social commentary as a book for word lovers, EUPHEMANIA is a lively and thought-provoking look at the power of words and our power over them.
About the Author
Ralph Keyes is the author of 15 books, including The Courage to Write and I Love It When You Talk Retro. He has written for Esquire, Glamour, Cosmopolitan, GQ, Newsweek, and Harper's. Keyes lives in Yellow Springs, Ohio, where he writes, lectures, and is a Trustee of the Antioch Writers' Workshop.
Praise For Euphemania: Our Love Affair with Euphemisms…
"If 'Euphemisms are unpleasant truths wearing diplomatic cologne,' as Quentin Crisp once said, then Ralph Keyes has given word and language lovers a deeply fragrant-and thoroughly enjoyable-book."—Dr. Mardy Grothe, author of Oxymoronica and other quotation anthologies

"Whether you're looking for information or just browsing, Euphemania is a classic. It is beautifully written, uniformly delightful, and a pleasure to read. Keyes has spread a broad net and offers the tastiest morsels to his readers. I love this book!"—Rosalie Maggio, author of How to Say It and The Art of Talking to Anyone

"Fascinating! If you think you already know how we human beings shape language to create the kind of relationships we want, wait until you read Euphemania. Ralph Keyes opens the reader to a new world of thoughtfulness, embarrassment, manipulation, and even criminality through euphemisms. While much of the book is just plain funny, one cannot help but develop a new respect for the complexity of our language and for our amazing inventiveness as we cope with every imaginable situation by avoiding the truth. An engrossing, amusing and highly informative read."—Richard Farson, author of Management of the Absurd

"Keyes' treatment of our everyday attempts to ameliorate through language the unpleasantries of life is brilliant-and a great read."—Tom Dalzell, author of The Slang of Sin and Flappers 2 Rappers

"The title of this smart new book, Euphemania, is no euphemism. Author Ralph Keyes is right: We are crazy about euphemisms. For good reasons and bad, euphemisms help us speak the unspeakable, describe what cannot, in decent society (if only we lived in one!), be described. Those are not rings of fat around my waist; that's my spare tire. Or, should you want to know me better, just grab my love handles. Hang on tight and we'll ride through the wise and witty work of a writer who handles his love for the language on every page."—Roy Peter Clark, author of Writing Tools and The Glamour of Grammar