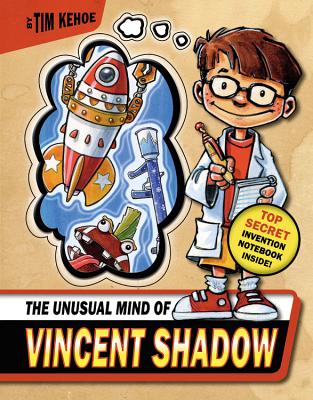 The Unusual Mind of Vincent Shadow [With Invention Notebook] (Hardcover)
Little, Brown Books for Young Readers, 9780316056656, 185pp.
Publication Date: November 1, 2009
Description
Vincent Shadow isn't particularly good at sports and is constantly being picked on by his classmates at Central Middle School. But it is Vincent's unusually creative mind that truly separates him from other kids his age.
Vincent's top secret attic lab is crammed with toy prototypes --from Liquid Superballs to Bullz-I Basketballs and Sonic Snorkelz--and he has a sketch book filled with drawings of toys he still wants to build. So when a chance encounter with an eccentric toy inventor offers him the opportunity to go from unknown weird kid to toy inventor extraordinaire, Vincent realizes that playtime is over: it's time to get serious about toys.
* Now retitled as Vincent Shadow: Toy Inventor in paperback
About the Author
Tim Kehoe is the inventor of numerous toy products, including the world's first colored bubbles, called Zubbles, and he was recently named one of America's 100 Best by Reader's Digest. In 2005, Zubbles was awarded Popular Science's Grand Prize for Innovation. This is Tim's debut children's book. He lives with his wife and children in Minnesota. Visit him online at www.timkehoe.com.
Advertisement