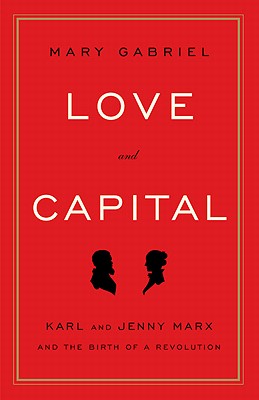 Love and Capital
Karl and Jenny Marx and the Birth of a Revolution
Hardcover

* Individual store prices may vary.
Other Editions of This Title:
Paperback (11/13/2012)
Description
Brilliantly researched and wonderfully written, Love and Capital reveals the rarely glimpsed and heartbreakingly human side of the man whose works would redefine the world after his death.

Drawing upon previously unpublished material, acclaimed biographer Mary Gabriel tells the story of Karl and Jenny Marx's marriage. Through it, we see Karl as never before: a devoted father and husband, a prankster who loved a party, a dreadful procrastinator, freeloader, and man of wild enthusiasms -- one of which would almost destroy his marriage. Through years of desperate struggle, Jenny's love for Karl would be tested again and again as she waited for him to finish his masterpiece, Capital.

An epic narrative that stretches over decades to recount Karl and Jenny's story against the backdrop of Europe's Nineteenth Century, Love and Capital is a surprising and magisterial account of romance and revolution -- and of one of the great love stories of all time.
Praise For Love and Capital: Karl and Jenny Marx and the Birth of a Revolution…
"Mary Gabriel brings the tragic Marx family saga blazingly to life for a new generation of readers. She also makes a compelling argument that, following the demise of communism in Eastern Europe and the economic meltdown of Western capitalism, the economic analysis of Marx and Engels has a continuing relevance in the 21st century."
—
Gillian Gill
,
author of We Two: Victoria and Albert: Rulers, Partners, Rivals
"
Love and Capital
is a huge, often gripping book. It gives an entertaining and balanced portrait of Marx, Engels, their colorful milieu of exiles, freaks and revolutionaries, and the little-known Marx family, dominated by Karl's political obsession. It also details illicit love affairs, the deaths of children and financial struggles, all based on vast research and narrated with empathetic passion...[It's] enjoyable...because of the details of family life and family politics that Gabriel offers up - her vivid portrait of a struggling, obsessional bohemian intellectual in the capitals of mid-19th-century Europe."—
Simon Sebag Montefiore
,
New York Times Book Review
"Mary Gabriel provides a fresh approach to this oft-examined topic... a gripping tale of intellectual abundance coupled with physical poverty."
—
Jennifer Siegel
,
Wall Street Journal
"Those interested in European political development of the 19th and 20th centuries will be fascinated by the story of the monocled, bearded, poverty-stricken lecturer on economics and his small, powerless audiences of refugees."
—
Carl Hartman
,
Associated Press
"Beautifully written...The particular attraction of
Love and Capital
resides in the book's unsparing portrait of a brilliant man who would never claim responsibility for his own failures when he could easily fob them off on financial, familial, or political obstacles."—
Michael Washburn
,
Boston Globe
"
Love and Capital
, which was nominated for a National Book Award, is also a thrilling story, heroically researched, with passages on every page so startling, exact, moving or perceptive that I wanted to quote them all. Hard to imagine that a weighty book on Karl Marx could be a page-turner, but this one is."—
Elaine Showalter
,
The Washington Post
"
Love and Capital
is a page turner, an erudite, sensitive look at the world-changing man and, most of all, the overlooked women in his life, who sacrificed much happiness to help him evangelize his vision of class equality."—
Slate
"Absorbing, affectionate and altogether exemplary."
—
Craig Seligman
,
Bloomberg News
"A magisterial account of the lives of Karl Marx and his wife, Jenny von Westphalen, remarkable for the ease with which it moves between the domestic and the political spheres...Gabriel offers us the human, family side of a character more usually seen as a calculating theoretician, and in doing so offers an intimate glimpse into the trials, tribulations, and passions of a man who, more than any other thinker, has shaped our modern notions of work, money, and social relations."
—
Publishers Weekly
"[Gabriel] offers a rich, humanizing portrait of the Marx family....A saga as richly realized as a fine Victorian novel."
—
Kirkus Reviews
"A serious and tremendously well-researched biography of a remarkable family who worked together to change the world... Mary Gabriel tells their story with great empathy and verve...to illuminate what Karl called his "microscopic world" of home and family. Gabriel also provides plenty of excursions into the "macroscopic world" of 19th-century revolutionary politics, as well as some lucid explanations of Karl's earthshaking ideas."
—
Mark Doyle
,
Bookpage
"This is the first seriously researched study of the relationship-the passionate love story-between the philosopher and his wife, Jenny von Westphalen...Gabriel draws heavily upon extensive Marx family correspondence to create a compelling story of love and heartbreak, following the Marx family across Europe through hard times and tragedy. She reveals not only the intellectual and revolutionary Karl Marx, but also the husband, father, and very human being...Recommended for serious general and specialist readers interested in understanding Karl Marx more deeply, the development of Marxist doctrine, and humanized 19th-century European history."
—
Leslie Lewis
,
Library Journal
"Gabriel blends Marx's radical political activities and summaries of his major writings into an unblinking account of his marriage in a book-lengthening strategy that eventuates in much minutiae of socialist history while still showing the causes of the Marxes' chronic marital crisis... Gabriel's comprehensive research yields a new standard work about the private Marx."—
Gilbert Taylor
,
Booklist
Little, Brown and Company, 9780316066112, 768pp.
Publication Date: September 14, 2011
About the Author
Mary Gabriel is the author of Love and Capital: Karl and Jenny Marx and the Birth of a Revolution, which was a finalist for the Pulitzer Prize, the National Book Award, and the National Book Critics Circle Award, as well as of Ninth Street Women, Notorious Victoria: The Life of Victoria Woodhull, Uncensored, and The Art of Acquiring: A Portrait of Etta and Claribel Cone. She worked in Washington and London as a Reuters editor for nearly two decades and lives in Ireland.
or
Not Currently Available for Direct Purchase